When my parents would take us out to eat on Sunday nights, there was something I was always irritated with. Soup! I love soup. Being a vegetarian, and loving soup, there is always a moment of disappointment when you ask the server if the soup is made with meat stock, and their answer is yes (or you get the server who has no idea and makes up the answer, such as, I don't think so…I don't trust those servers!).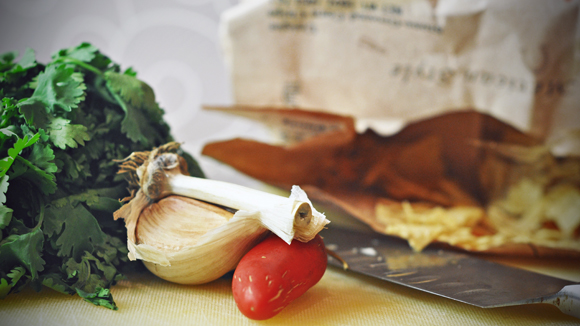 Some of B and I's friends have made up a saying, based on one of our heated "disagreements". They thought it was so funny and bring it up from time to time. When we were first married, B asked what we were having for dinner one night, I told him "soup" with no hesitation. He kept asking, "soup aaaaaand….." I was confused, because, wasn't soup enough? My parents always had just soup for dinner sometimes, and no one ever complained.
I continued to tell B that it was just a hearty soup. He said "you can't just have just soup, there needs to be a point of interest, like a sandwich or quesadilla. I don't even like soup". I finished the "conversation" with a loud, "I like soup, soup fills me up!"
I guess I can see why this is funny to other people. You see, I got the last laugh. B loves soup now, and is happy when I serve soup for dinner.
I had never had tortilla soup, but I was always eyeing whoever ordered it, whenever we ate out. It looked and smelled so good. One day, I had had enough and started making my own. I love this recipe so much. It's such a warm and hearty soup.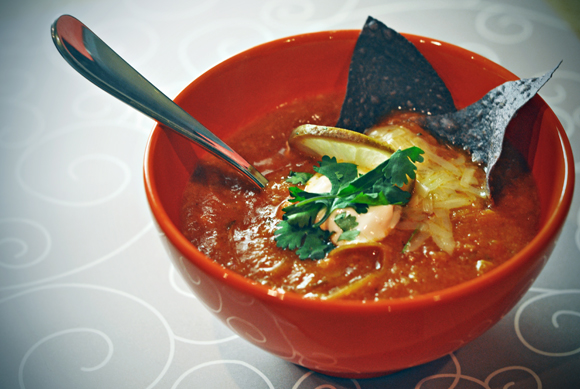 As fall has made it's debut here in Ohio, soup was definitely on the menu. I always save those tiny bits at the bottom of the tortilla chip bag. They are perfect for my tortilla soup. I feel so included when I make this soup. I even make it with Quorn so it tastes authentic. B, a meat eater, even loves this soup!
Vegetarian Tortilla Soup
1 T extra virgin olive oil
1 C frozen Quorn tenders
1 t hot sauce
1/2 t smoked paprika
2 C veggie stock
2 C water
1 1/4 C diced tomatos (or you can use crushed)
1 jalapeno de-seeded
2 chopped garlic cloves
1 C chopped leeks or onion
1/4 t cumin
1/2 t chili powder
1 t. garlic granules
1/2 t pepper
2 T chopped fresh cilantro
1/2 a lime juiced
2 t celtic sea salt (course)
1 C old tortilla crumbs
1 C pepper jack cheese
1.Add the evoo to a medium size pan, and heat on medium heat.
2. Add the Quorn, hot sauce and paprika. I use the Quorn frozen. Sautee until the spice has absorbed. About 2 minutes.
3. Cover with the stock and water and add in all the other ingredients, except the salt, cheese and tortilla crumbs. Bring to a boil and once it boils, cover and turn to medium low for about 20 minutes.
4. Once the ingredients has cooked together add the cheese, tortilla crumbs and salt. Continue cooking for about five more minutes.
5. Top with shredded cheese and plain greek yogurt.
*my favorite brand of chips to use are organic Xochitl.