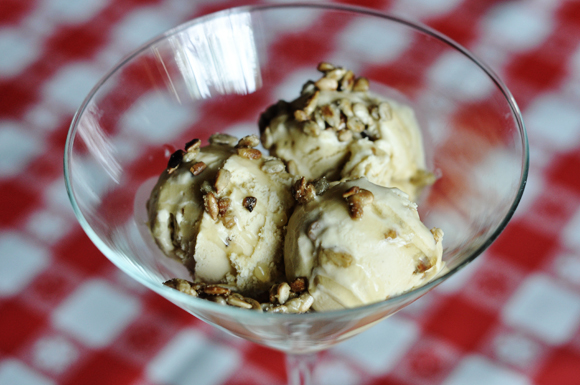 A few years ago I was watching one of those Rachel Ray traveling shows. This was when I was obsessed with Food Network. She was at Mount Rushmore, I think, and found a cute little ice cream shop with tons of flavors. She got one with honey roasted sunflower seeds (if I do recall correctly). It sounded so right, and I've been waiting on my favorite local ice cream shop to make this flavor after many hints. I'm still waiting!
So, I took the ice cream into my own hands. I wanted to make the ice cream interesting, even though the honey roasted sun flower seeds would be the star. I thought saffron would get the party started without being intrusive. Maple syrup would also do the same, without fighting with any other flavor and just adding harmony.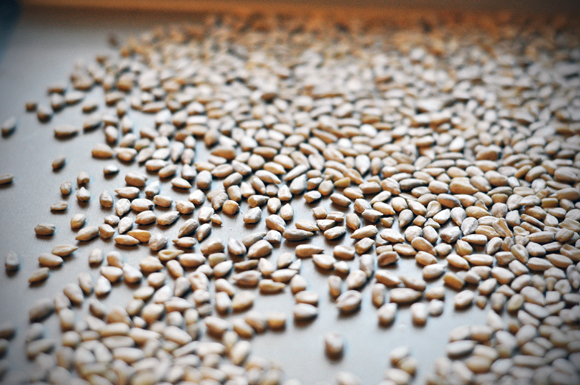 I used sucanat sugar and I think this was the dominent flavor of the ice cream. If you use regular sugar, you would probably be able to taste the saffron and maple a little better. But I liked the warm carmel notes the sugar provided. It married well with the sunflower seeds.
I was quite satisfied with my creation. The sunflower seeds are ridiculously addictive so you better make more to munch on. It's a perfect finish to a light summer dinner.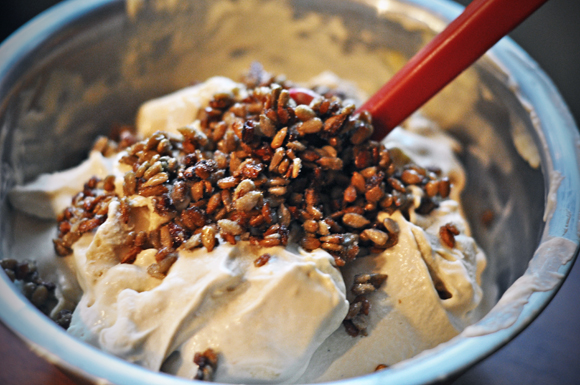 Saffron maple ice cream
16 oz heavy cream organic
2 1/2 C whole organic milk (reserve 1/4 C for tapioca)
1/2 C sucanat sugar
1/4 C granulated sugar (regular)
1/4 t salt (I use fleur de sal)
1 T +1 t tapioca starch
1 T maple syrup
1 t vanilla bean paste
aprox. 5 threads of saffron
-add the milk and cream in a medium size sauce pan.
-on medium/high heat gently boil them together.
-add the sugars and stir until dissolved.
-continue to gently boil to reduce the liquid mixture by at least a 1/4. *this will foam quite a bit so do yourself a favor and take a set at the stove, or else you will be cleaning a burnt on, milky mess.
-add the maple syrup, saffron, vanilla bean paste and salt, stir and turn off the heat.
-cover the cream and let all the ingredients steep for at least one hour.
-strain the liquid through a fine mesh strainer and add back into the pot.
-add the reserved (cold) milk to the tapioca starch and mix with your clean fingers until it dissolves and add to the cream.
stir until it thickens, about 3 minutes.
store in a lidded container and refrigerate over night. This is necessary so it is completely cool.
-prepare your ice cream maker according to the manufactures directions, ie freeze the container.
-add the cold custard to your ice cream maker and churn according to the manufacturers directions. It took me about 20 minutes. Once the ice cream is finished you can fold in the honey roasted sunflower seeds and store in a freezer safe container and freeze for at least 2-3 hours.
Honey roasted sunflower seeds
1/2 Raw sunflower seeds
1 T water
1T honey
1 t virgin coconut oil
1 T sugar
1 t fine sea salt
-spread out, on a rimmed cookie sheet with parchment, the sunflower seeds so they are in an even layer.
-roast at 350 degrees for about 8 minutes. After 8 minutes stir and roast for another 4- 8 minutes. Once they have a golden brown color take them out to cool.
-in a small sautee pan, add the honey, water and coconut oil and bring to a light boil.
-add the seeds and stir until all of the liquid is absorbed
-in a separate bowl stir together the sugar and salt
-immediately toss in the seeds and coat with the sugar and salt
-once coated, spread out on a parchment lined cookie sheet and cool completely.