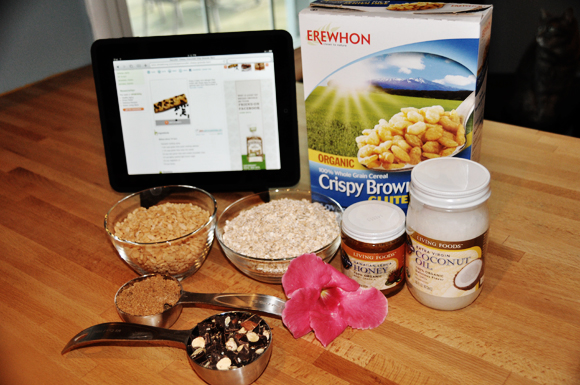 When I was a kid, I thought I was making a healthy snack choice if I ate a "chewy" granola bar.  You know, it's got oats in it, that's healthy, right?!  Little did I know, as a kid, that they are loaded with sugar, high fructose corn syrup and other additives.
Marketing geared towards kids is extremely deceptive.  I think there really needs to be strick regulations on commercials aired during children's tv.  In my opinion, they should have commercials that only promote real foods, like fruits and vegetables. Nothing should be promoted with added sugar, artificial colors or artificial preservatives.
I was watching an episode of Martha Stewart, and she had a guest on that made granola bars that had no allergens in them.  They looked so good, just like the ones I got from the market when I was a kid, and it looked super easy.  I, myself, do not suffer from food allergens (that I know of), so when I set out to make these I wasn't set on making them allergen free.
Instead of vegetable oil, I used organic virgin coconut oil, which does not store in the body as fat, but as energy, since it contains medium-chain fatty acids.  It stimulates the thyroid, and is great for people with thyroid issues.  It also has natural anti-bacterial properties and can be used as a natural "Neosporine" , thanks to the lauric acid it contains.  It is a myth that virgin coconut oil contain harmful saturated fat;  this is because it contains around 50% lauric acid.
I also used organic unrefined brown sugar, and raw honey.  I couldn't find organic, mini chocolate chips, so I just chopped up organic dark chocolate.
These were so good, and brought me back to that great childhood treat.  They were even better than those because there was a slight hint of coconut from the oil.  If you want them chewy, leave them out at room temp.  If you like it snappy and crunchy, keep them in the refrigerator.  I cut them into bars and wrapped them so they wouldn't melt into each other.   They were so easy to make and so good, you won't buy those "chewy" granola bars again!
1 3/4 C instant oats
1 1/4 C crispy brown rice cereal
1/2 C chocolate chips or chopped semi sweet chocolate
1/3 C lightly packed dark brown sugar
1/3 C raw honey
1/3 C virgin coconut oil
mix the oats and brown rice cereal together in a bowl.
in a medium pan, add the oil, honey and brown sugar.
heat the sugar until it all foams/boils together (about 1-2 minutes).  If you don't boil it long enough nothing will stick together.
once the sugar/oil mix comes together, add it to the oat mix and stir until it's completely mixed.
lay it out in a square 8×8 pan (if you use coconut oil, you do not need to spray the pan) evenly, but do not push it down evenly, leaving the crannies for the chocolate to sit in after the oat mix cools off a bit.
add the chocolate once the oat mix cools off a bit and push down to smooth it out.
refrigerate to speed up the cool off.  Make sure it comes to rooms temp before cutting into bars.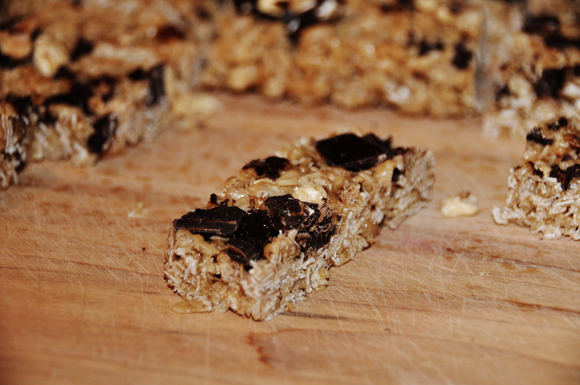 Don't worry about how long they keep, they won't be around too long! Adapted from Nonuttin' granola bars from Martha Stewart.
*You can also add chopped, toasted nuts, and dried fruits for a great addition.
*If your granola bars are not sticking together it could be 1 of 2 things…the sugar oil mixture did not boil long enough or you used too much oil. Refrigeration also helps.