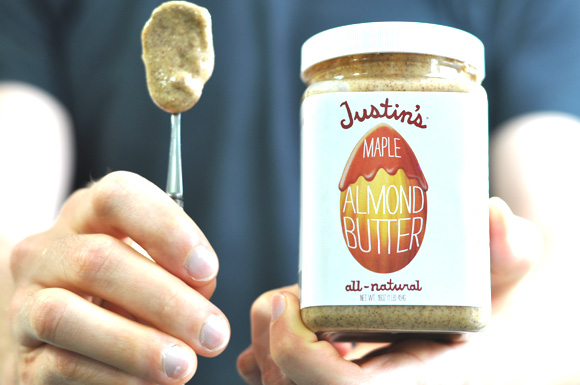 Shame on them. I mean really, it should be a crime to make something this addicting.
Right before Easter, me and the Hubs were cruising the aisles of Whole Foods and stumbled upon some cute looking peanut butter cups by Justin's. We got them, as well as some other chocolates. These were definitely the best peanut butter cups I had ever had. They were dark chocolate and had a great snap. They were also organic, which is always a bonus!
I had always seen the jars of Justin's Nut Butters at the store, but I never bought them because I assumed they weren't organic. I don't know why, but I was compeled to visit their website. After reading about the company and the founder, I was excited! They were a responsible company, dedicated to doing their best for people, and the planet. They use great ingredients and they are passionate about their products.
I started to obsess over getting some. The next day, we were headed out of town for Easter, and we were running short on time. That night, I had tossed and turned, thinking about this freaking peanut butter!
We went to a grocery store out of town and it wasn't there. I was crushed. 2 days later, when we got home, I finally got some! I bought a couple squeeze packets and a jar. I could hardly wait to try it, so as we were on our way home, I tried the honey peanut butter squeeze packet. I was a little bummed. It was good, but nothing out of this world. When we got home, I opened the jar of Maple Almond Butter (Justin's favorite), and had a small spoonful. As I was trying it, I didn't have high expectations, since the peanut butter wasn't great. As I was tasting, I thought," oh, this is pretty good….WHOA, THIS IS AMAZING!" I had B try it, and he had the same reaction! It's the definition of nutty and warm. It's so good, and worth every penny. We find ourselves, daily going into the pantry for a spoonful!
I have since tried their other flavor of Chocolate Hazelnut, and this is very reminiscent of the famous hazelnut spread. It just has better ingredients. They have several flavors, but the maple almond is my favorite. The squeeze packets are also super convenient for your purse, or travel. If it's sold around you, don't walk, run to get some!