I love winter. I'm not one to complain, and tell people who are traveling that I'm jealous of them. I love the snow and the cold, and I've never had any desire to leave it.
My cousin was getting married in Mexico, and gave everyone a year-plus notice. I am scared to fly. I said no! But after B put his foot down, he said we were going. I had a year to dwell on the fact that I would be in a plane. I also had plenty of time to do research on the area — seeing where eating gluten-free would be a little easier. I didn't find much, since I'm also a vegetarian. I told B, who knows quite a bit of Spanish, that he would have to tell waiters that I was allergic to wheat, and I don't eat meat. Sin trigo y sin carne, por favor.
Our trip started out a little rocky (that's an understatement), since B and I missed our flight (when my whole family made it!) and lost one whole day in Cabo. When we finally arrived I felt like we earned something! I felt like I had to fight for a good time, since we had to fight to even get there (4 airports in two days, and lots of waiting and phone calls).
Our first day, we got situated in the family condo and relaxed by the pool. Lunch/Dinner time arrived and we walked to a great little restaurant that I read a lot about, and was highly recommended. This was the one place I HAD to eat at. It was called Cynthia Fresh. A small, organic outdoor cafe, set in a Mexican furniture market. It was a beautiful setting and the food was amazing. Everyone was impressed. Thank goodness B can speak decent Spanish, since he warned the waiter of my food restrictions. I got a delicious , fresh, organic salad and a "sweet basket", which was organic potatoes and sweet potatoes and plantains with a thyme, rosemary garlic salt seasoning. My mom and I also ordered the "mineral lemonade", and holy smokes, this was the best lemonade I've ever had! It was fresh lemons and a simple sugar syrup, and instead of using regular water, they used mineral water. It was amazing.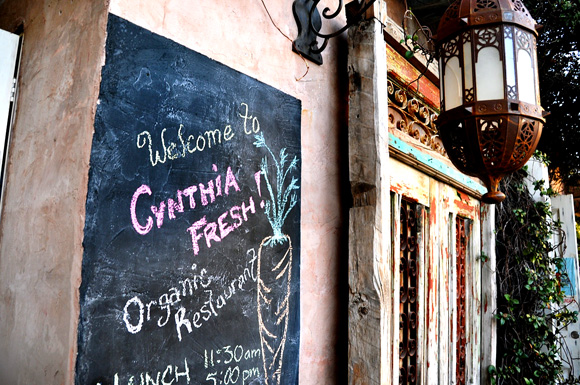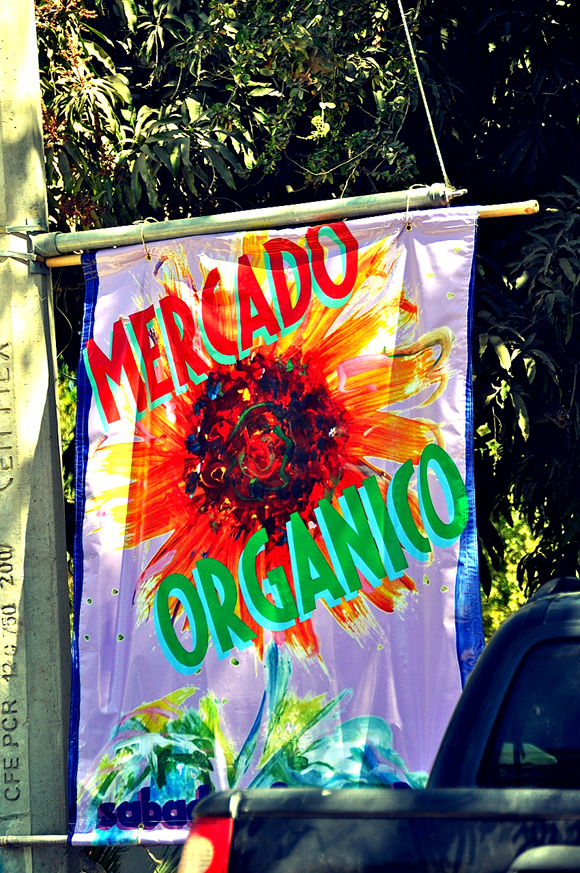 The weather was perfect, it was not humid at all, and it was hot and sunny during the days, and cool and breezy during the nights. On Saturday before the wedding, we took a long walk to the organic farmers market. I was really hoping to be blown away by the fresh organic food options, but I was so untrusting of people telling me that things were all corn and no wheat, that I missed out on the local food. There was a juice stand that I had read about, and wanted to hit. I couldn't find the actual stand, but I did find a juice stand, nonetheless. They had a lot of different flavored waters and juice mixes. I was so hot and thirsty, that I thought I would get a guava water. The lady literally cut an under-ripe guava in half, and popped it in an Oster blender with water and a spoonful of sugar. Instead of being refreshing, it was bitter and undrinkable. I got a stomachache right away. I had a sip of B's tropical juice, and it was awesome! B was the beneficiary of the whole market. He got a piece of kale and tomato pizza, freshly baked on a wood-fired pizza oven and got an authentic chicken and potato taco. He was satisfied, and I was a little envious!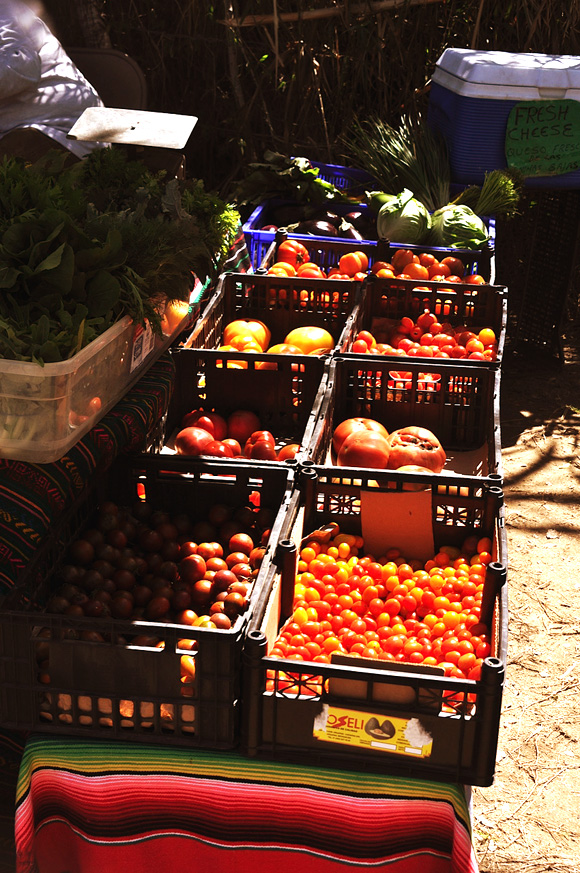 That evening, we went to my cousin's wedding in Cabo San Lucas, on the beach. We were greeted with authentic Mexican drinks, and I choose the Horchata, a sweet, rice milk, and that was everyone's favorite. The wedding was beautiful, and after the ceremony we went to a hotel, greeted by a Mariachi Band! There were a lot of hor d'oeuvres that looked delicious, but I had to pass them up. Even the chips for the salsa and guacamole were a little suspicious to me. By that time, I was starving, so I gave in and had some chips.
At the reception, I had B run up to the kitchen and grab a bag of the tostadas that they were using, so I could see if they were mixed with wheat. Finally, hard proof that something was safe! I got a plate of rice and beans and the corn "bowls". I was so hungry that I think anything would have tasted good. I took my digestive enzymes and ate a whole lot of beans and rice! Surprisingly, I did not get a stomachache that night. The partying got pretty intense, and I was really tired, and we still had to walk back to our condo, so we said our goodbyes at 10:30 pm.
The next day, there was a breakfast brunch with the whole group. I realized I was much safer at breakfast because there are always eggs! I got eggs, and the same corn tostadas, yogurt and fresh fruit. That day, I needed to fulfill some vacation dreams. B and I wanted to ride horses at sunset on the beach, and I was bound and determined to do it. After talking and bargaining to a couple of guys, we got on Speedy and Gonzales, and my dreams came true! I loved it! The horses were sweet, and it was such a beautiful site, going along the beach while the sun was setting.
That night we ate at a place called Salsitas. It was ok. I was a little over eating the same things, but it made me realize something; America has Mexican food down-pat. We weren't eating anything that I had never had before.
We fulfilled another vacation dream of ziplining. It was a lot of fun, and afterwards we ate at the cafe, and I finally got a tortilla that was made with corn! I it was a blue corn tortilla with cheese and a delicious salsa. That was my favorite food in Mexico. Later that day, we rejoined the wedding guests again at Mango Deck. This was everything you would expect to see on MTV spring break. Wet T-shirt contest and all. Since this was a family event, we went on a glass bottom boat tour and got to enjoy El Arco de Cabo up close. I also faced my fear of going into the ocean and swam in the crystal clear water at the beach. It was really cold, but worth it.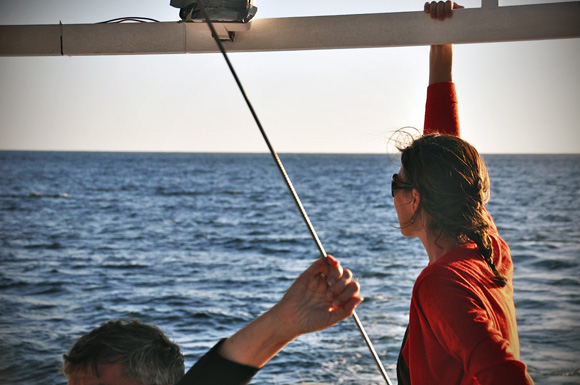 Later, on our last night in Cabo, we went on a whale watching boat with everyone. We saw a couple puffs of water blow in the air, but that was all. It was surprisingly cold, and everyone was shivering on the boat. Once we said our final goodbyes, we went to Cynthia Fresh again for dinner. It was good, but everyone preferred their lunch menu better. Their dinner menu wasn't very Mexican. So, if you want to go to Cynthia Fresh, get their before 5 PM, while they still have their lunch menu.
Our trip home was fine, and we didn't miss our flight. It was a great vacation, and I'm so glad we went. If you're going to San Jose Del Cabo, and need some eating advice, please post a question, and I'll comment back!