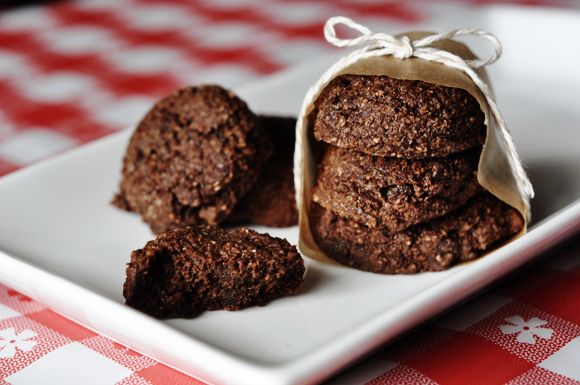 I adore days like today. It's been a little bit overcast all day, a tiny bit humid, with a refreshing East breeze with a hint of cool. Today's temperature is 77 degrees. I love it because it's August. I always feel like right when I'm getting totally sick of Summer's hot revenge, God blesses me with a day like today. It's like a fall teaser. It should be hot and humid, but it's just barely humid and cool, especially in the evening.
I love thinking about Fall and it's magical transformations, cool, brisk evenings, and affectionate rendezvous with the outdoors, savoring the farewell to your time outside. It might just be me, but I want to jump the gun on feeling fall as soon as possible. I want to get in the kitchen and create an atmosphere, specific to fall memories.
There are all kinds of cookies I love, but there is something really special about a truffle cookie. I had the ingredients on hand, so I just started to create. It all worked out for me, one try! I think I might play around with it a little more, but these cookies were so addicting just the way they are. The crunch of the chocolate chips is the source of the addiction, I believe.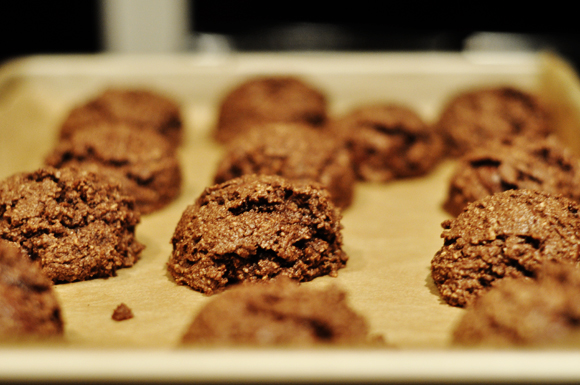 I used "Let's Do Organic" coconut flour, and I must say, I'm not a fan. I got it because it was cheaper that Bob's Red Mill, but it was the same weight so I thought why not. The reason why not is because it's very grainy and not powdery like a flour. But regardless, it worked out. But next time I'm going to use Bob's and it will probably provide a bit denser crumb.
Chocolate Truffle Cookies- Grain and Gluten free
8 oz butter room temp. (I used salted)
3/4 C sucanat sugar
1/4 C mesquite flour
1/2 C coconut flour (if you use BRM you may need a little less)
1/4 C almond meal
1/2 t baking soda
1/2 t salt* (I like a salty bite but dismiss if you don't want it salty)
1/4 C. coconut milk
2 squares (28 g) unsweetened baking chocolate- chopped
5 squares (63.3 g) semi sweet chocolate- chopped
1 t vanilla
1 T virgin coconut oil
3 eggs
1/2 C chocolate chips
Pre heat oven to 355 degrees
In a small sauce pan, boil the coconut milk and add the chocolates and stir until melted.
Add in the vanilla and coconut oil and set aside to cool slightly.
In the bowl of your mixer, cream the butter and sugar together until light and fluffy, about 3 minutes.
Add eggs one at a time
combine flours and almond meal, salt and baking soda and add to the cookie batter.
Mix on medium until well combined and turn down to stir.
While the mixer is on the lowest speed, add in the melted chocolate mix and stir until fully incorporated.
Stir in the chocolate chips
on a parchment lined cookie sheet, use a small ice cream scoop to measure out the cookie batter.
press down to compound a little bit to push out trapped air.
Bake for 15 minutes.