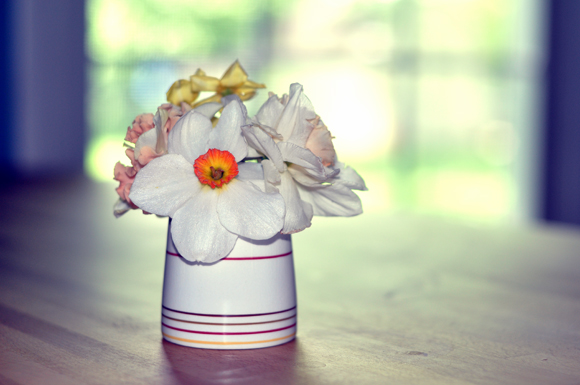 This spring weather has me confused.  I don't know whether to wear shorts or jeans, a tank top or long sleeves.  I'm also a proud owner of a mean tan line on my mid thigh.  In early April, I thought I would just sit outside for an hour on a freak 80 degree day, store up on some vitamin D and a little color.  One hour later, my rolled up yoga pants gave me  a "reverse shadow" effect on my legs!  No shorts for me for awhile.  The next week I had to drape my flowers and cut some spring buds that were in danger of freezing because a cold snap was rolling through.  I guess that's the beauty of Ohio weather.  It will drastically change on you, in one day.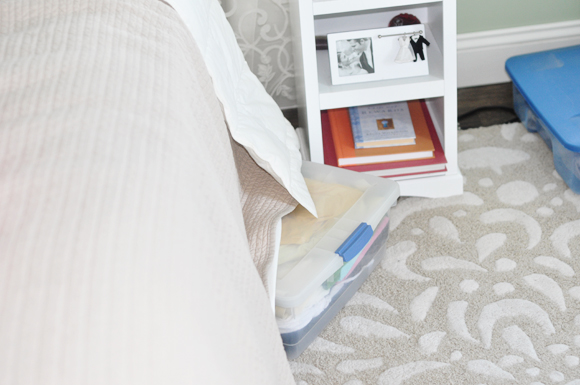 I have been teasing my self with my summer clothes.  They've been hiding away, under the guest bed, just waiting on the right time to make their debut.  I  have been taking out piece by piece when the weather is nice.  I just can't commit to totally changing over my closet, since I know there are going to be a few chilly days.
As a kid, I was always confused when I would see "big girls" change out their seasonal clothes.  I mean, for a kid, it makes sense, you're growing, and you aren't going to fit into those clothes next season.  As an adult, you have the luxury of having all your clothes in your closet at the same time.  I practiced this since from age 14-24.
When we bought our first house, we renovated the back half of the second floor.  Down to the studs.  The original master only had one small closet.  Since we were taking out a bed room ,we had room to add to the master.  B designed, and built me an almost walk-in-closet.  There was a lot of room and great organization. It only made sense for me to have the larger closet, I'm a girl!
A year later, I realized B had (has) way more clothes than I,  so one day, I decided, after much discussion, to make the switch.  I had just realized I couldn't manage the awkward shape and overwhelming  space.  I was already practicing the  seasonal closet, so moving to a smaller closet wasn't a problem.  It was on my side of the bed, so it was more accessible and I was more likely to put my clothes away faster.
I get tired of looking at the same clothes, colors, etc.  The seasonal closet is perfect for me.  It de-clutters your space, makes you appreciate your clothes more, causing you to look forward to them more and buying less new clothes.  When stored properly, it makes them last longer. Your closet has more room to breath, so your clothes smell fresher and there is less room for bacteria to linger.   I'm trying to make an effort to buy more "classic" pieces of clothing so that they will stay in style longer.
If you want a fresher, roomier closet, give the seasonal closet a try, it won't hurt.