I was ducking behind the door when I heard the door bell ring. I hate answering the door, especially if B is not home, which he wasn't. I heard a vehicle running and luckily the garage door was up so I snuck a peak to see who it was. Sure enough, a white van full of boxes. FEDEX!!! I love FedEx, it's like Christmas when they come.
I had ordered some supplements, which I knew were coming today, so that's what I thought I was getting when I opened the door. There was a little lady, with a huge skinny box. She said, "sign here please". Gladly!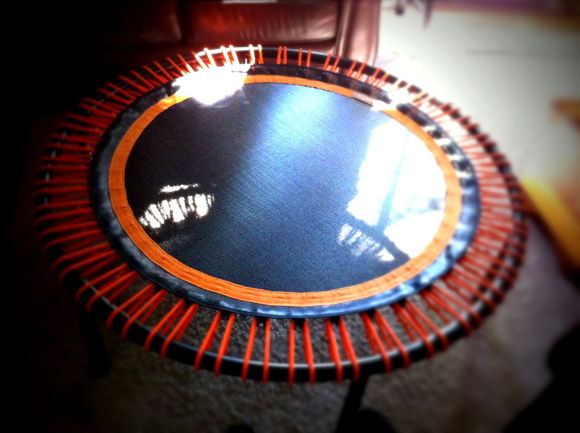 You see, this is the most awesome, hopefully revolutionary, and fun piece of exercise equipment I will ever be able to use. It's the Bellicon Rebounder. It's supposed to be the most efficient form of exercise, and much easier on your joints and bones. Who likes to hurt their bones just to exercise? I was also excited to try this, because it helps to stimulate your lymphatic system and drain your body of toxins, through the gentle bounce motion.
I unwrapped the very well packaged rebounder and set it up right away. Set up was a breeze, since I chose the attached legs. I am going to be doing either weekly, or bi-weekly posts on my progress with the Bellicon, so check back! I'm hoping this improves my health, muscles, body, and boost my desire to exercise. How could you not want to exercise on this, IT'S A TRAMPOLINE!
For more information on the Bellicon Rebounder go to there website Bellicon-usa.com It's a great website with information videos and articles.