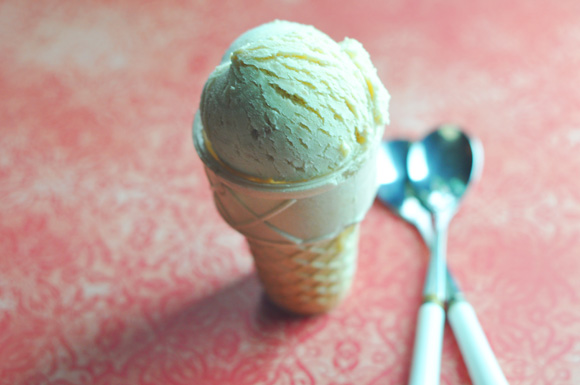 Bangkok peanut was one of the first flavors I tried at Jeni's Ice cream. I loved the warm peanuty-ness, and then you get hit with the spiciness of the cayenne pepper. I didn't realize it, until I got the Jeni's Ice Creams cookbook, that this ice cream is supposed to taste like the ice cream version of Pad Thai, and it does!
It has notes of coconut, peanut butter, ginger and cayenne pepper. It's definitely a unique ice cream flavor that I think is a winner! The recipe is super easy, and clear to follow. I'm going to be making a lot of the recipes in this book so come back, also for a chance to win a copy of Jeni's book, that I will be giving away in a few more posts!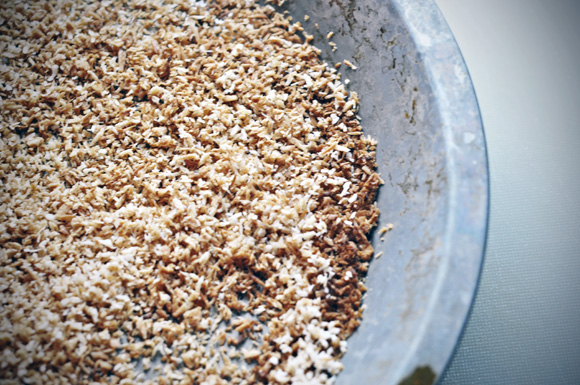 In her book, she lists ingredients that are easy to obtain for the home cook. If you shop at a health food store, you can get the ingredients true to the recipe.
Bangkok Peanut Ice Cream
1 1/4 C whole milk
1 T plus 1 t of cornstarch (I used tapioca starch)
1 1/2 oz cream cheese, softened
1/4 C natural peanut butter ( I accidentally used 1/3 C and it was fine)
1/2 t natural fine sea salt
1 1/4 C heavy cream
3/4 C unsweetened coconut milk (not light)
2/3 C sugar
2 T light corn syrup (I used organic tapioca syrup)
2 T honey
1/2 C unsweetened shredded coconut, toasted
1/8 t cayenne pepper
4 coins of of fresh ginger (optional)
In a medium bowl, cream peanut butter and cream cheese and salt together and set aside.
Toast you coconut, being careful not to burn it. I prefer to put mine in the toaster oven for about 2 minutes, on toast.
Take 2 tablespoons of the milk and mix the corn or tap starch and milk together, and set aside.
Combine the milk, cream, coconut milk, sugar, honey, tapioca syrup, and ginger over medium high heat until it comes to a rolling boil, about 4 minutes.
Once it comes to a boil, take it off the heat and add the milk/starch slurry. Return to medium high heat, for abut 1 minute, until slightly thickened.
Remove the ginger (of added) and slowly whisk the hot milk mixture into the peanut butter mix, until smooth.
Add the cayenne pepper and toasted shredded coconut, and chill over night.
When its thoroughly chilled, freeze according to you ice cream makers instructions. It will be soft, so freeze for 2-3 hours before serving.
* The recipe is perfect! It tastes just like the real thing. The texture is smooth and creamy and professional tasting!