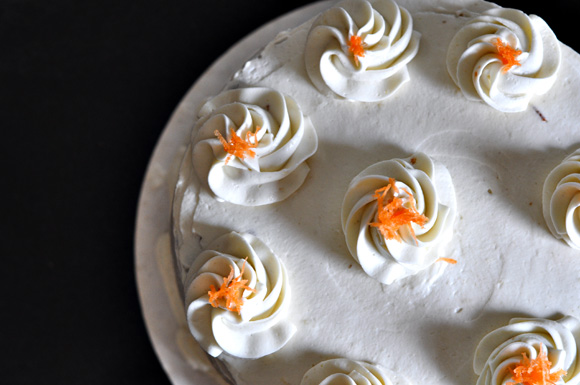 This past weekend was spent celebrating 3 birthdays! B's twin nieces, and my Mom's. My Mom said all she wanted for her birthday was just to be with all of us. She wanted to go to brunch and just be with her kids.
If there was a birthday in our family, my mom would always make a cake or some dessert. When her birthday would come around, my dad would have my Aunt make her a cake. I finally took over when I was about 8 or 9. It was a box mix with pink icing, frosting still in the pan. I didn't have the standards then, as I do now.
I told her that I was making a cake for her, but I didn't say what kind. I knew she liked carrot cake, but rarely asks for it, because my Dad doesn't care for it. I've made some pretty good carrot cakes, and I really wanted to make a staple gluten-free version.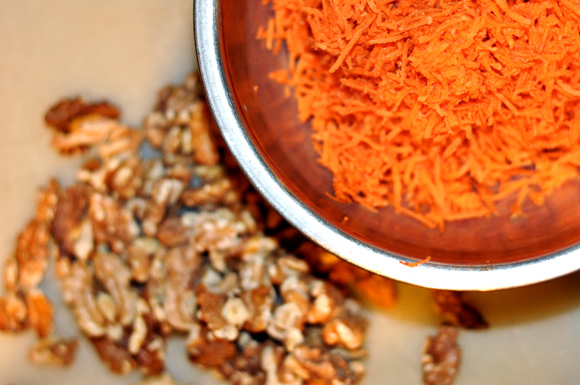 The cake turned out fabulous. No one really even realized that I was eating the cake too, until I mentioned it. B said that this was what he wanted for his birthday cake, and it was the best cake he'd ever had. That's saying something for someone who still eats wheat, and likes it.
I picked this recipe because, aside from using a G-free flour mix, it was identical to my previous successful recipe. It's also light and not dense like some carrots cakes I've had. This is a winner for sure!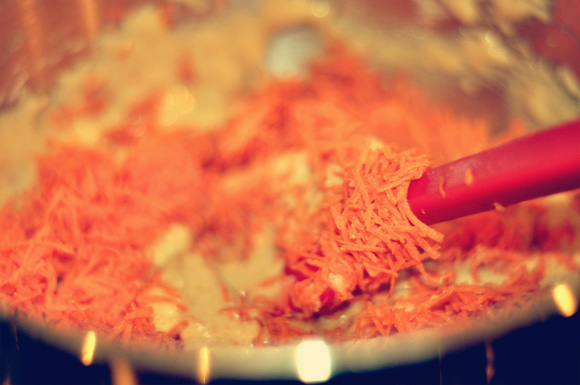 GF Carrot Cake
Gluten Free Carrot Cake Recipe
Makes two 8-inch cake rounds.
3 cups gluten free flour mix (I used King Arther GF AP mix)
1-1/2 teaspoons xanthan gum
1 tablespoon baking powder
2 teaspoons baking soda
1 teaspoon salt
2 teaspoons Siaagon cinnamon
1/2 teaspoon nutmeg
2 cups granulated sugar
1-1/2 cups safflower oil
4 large eggs, room temperature
2 teaspoons vanilla extract
2 cups grated carrots – grate it small and not the larger grates.
1 cup toasted walnuts- finely chopped
1.Preheat oven to 350ºF. Position rack in the center of oven. OIl two 8″ round cake pans with coconut oil and place a parchment round in the bottom of each and oil those.
2.Place flour, xanthan gum, baking powder, baking soda, salt, cinnamon and nutmeg in a medium mixing bowl and whisk until thoroughly combined. Set aside.
3.Beat sugar, oil and eggs in a large bowl with an electric mixer until smooth, about one minute. Add vanilla and mix well.
4.Slowly pour flour mixer into the sugar and oil mixture and beat at medium-low speed for one minute. Fold in carrots and walnuts.
5.Pour batter into prepared pans and bake in the center of oven for about 55 minutes or until an inserted toothpick comes out clean.
6. Let the cakes cool in the pans for about 20 minutes and turn out on a cooling rack.
* For the frosting, I just folded whipped cream into a cream cheese and sugar mixture until I got the right consistency, no real recipe.
*recipe inspired by wasabimom