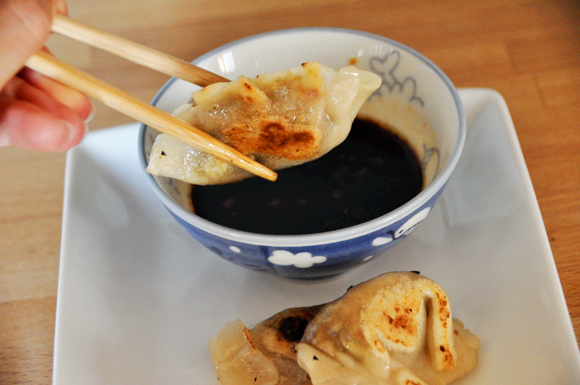 As my sweet husband put it, the seasons are beings very organized. Fall was fall, and Yesterday, on December 1, it snowed for the first time. It wasn't anything major, but I nice little dusting to put me into Christmas cheer.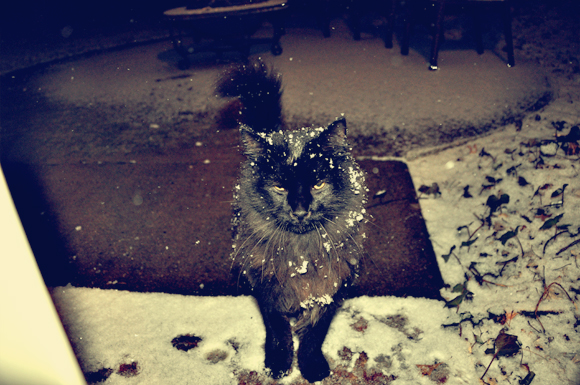 We actually spent the day with my Dad, waiting on our new countertops to show up. After they were finally installed, (at 6:30 PM!!) B and my Dad could get to work putting the plumbing back together and tiling. I felt bad because my dad drove up for just the day and thought he could be home that night to eat dinner with my mom. They live an hour and a half away.
Since we were taking him hostage for the night, we thought we would go get something to eat. Since I'm eating gluten-free, organic and for the time being, dairy-free, it's hard to think of restaurants I can eat at! I always forget about it but we have a great Thai restaurant in town that use organic ingredients, free range meats and as much local as posible. My Dad loves asian food so this was a win win for me.
It was just us in the restaurant since it was a little before the dinner rush. The food was great, but what made it so awesome was looking out of the window at the falling snow, illuminated by the street lamps. It was such a perfect site to jump start the Holiday Spirit.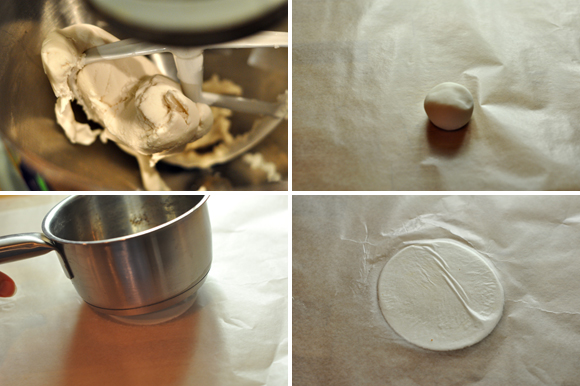 I don't know what it is about winter but all I want to eat is potstickers. It was the highlight of my Chinese Restaurant experience as a kid. Every year since I've learned to make them, I just can't get enough.
The best thing about food blogs, is that people bring their family recipes to the cyber table to share. I love Chinese food but could never recreate it at home, especially potstickers. I found a great blog, UseRealButter, that showed step by step instructions on how to make them. I make these babies in bulk and given them as gifts, they are so good.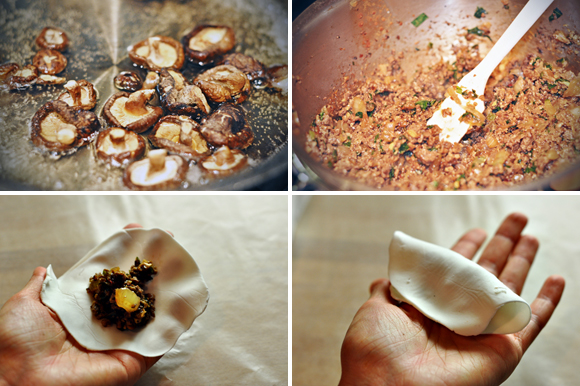 I have since played with the ingredients and made my own, vegetarian, gluten free version, that hits the spot every time.
For the Wrapper
1/2 C. Tapioca starch
1/2 C. White rice flour
3/4 t. Xanthan gum
1 T. Toasted Sesame oil
6 or 7 T water
In a stand mixer with the paddle attachment, mix all ingredients until well combined. Add the water until it forms a soft but not stick dough ball. Be sure to keep it moist until ready to use. I cover the bowl with a damp cloth or plastic wrap.
Adapted from Hey that tastes good!
Pot sticker filler
2 green onions
1 C. Quorn grounds
2 leaves of napa cabbage
1 oz gluten free soy sauce
2 T chopped ginger
1 clove of fresh garlic
1/2 C. dried shitake mushrooms
1/4 C. mushroom water
1 T tapioca starch
1/3 C water (for steaming)
2 or 3 T sunflower oil
In a skillet, heat the sesame oil to medium heat. Add the quorn grounds (I use them frozen) and cover to cook. Once the grounds are soft, add the soy sauce. Chop very finely the ginger, napa cabbage, green onions, and garlic. Add the dried shitake to a small pot of water and rehydrate them. This takes me about 10 minutes. Once they are soft and rehydrated chop them very finely. You can put all the "hard" ingredients into a food processor, but you need to be sure not to make it too paste. Add all the chopped food to the skillet and cook until every thing is cooked through and not raw. With 1/4 C of the remaining mushroom water add it to 1 T of tapioca starch and combine with your clean fingers. Add to the filling mix over medium heat. It will thicken everything, making it easier to fill the wrappers. Cool completely.
To assemble
Roll a small ball of the dough, about 1 tablespoon, and place between 2 pieces of parchment paper, do not use wax paper. With the back of a small pan, flatten the ball. Once it's flattened, you can use a rolling pin and roll it a little thinner, but be sure to keep it circular. Peel it from the parchment and in the middle of the circle place a small teaspoon amount of the filling in the center. Fold it in half and press the sides together and place on parchment until ready to cook. Or you can lightly oil a pot sticker press and use it.
To cook



In a skillet that has a tight fitting lid, add 2 or 3 T of oil on med/high. Place the dumplings, side down in a circular pattern around the skillet, facing the same way to make the most room. Pan fry until the bottoms are golden brown. Once the bottoms are cooked, quickly add 1/3 C of water, it will spit and spatter, and cover with a tight fitting lid. Cook until the water has all cooked off. Uncover the pan and brown up the bottoms a little more to make sure they don't stick. These are very hot, too hot to eat, so once they slide around, turn off the heat and make your dipping sauce.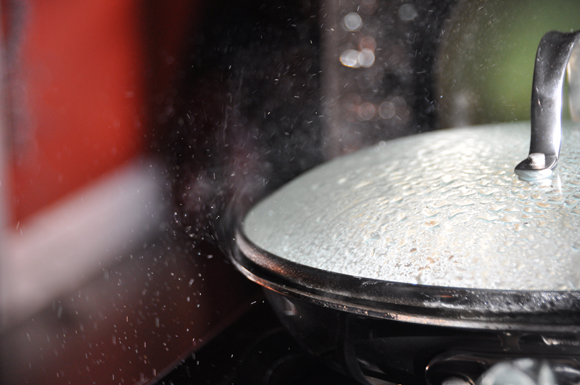 Dumpling dipping sauce
1 oz. soy sauce
1 t. honey
a little bit of chopped green onion
1/2 t rice wine vinegar
Combine all ingredients. You can heat all the ingredients to concentrate the flavors.