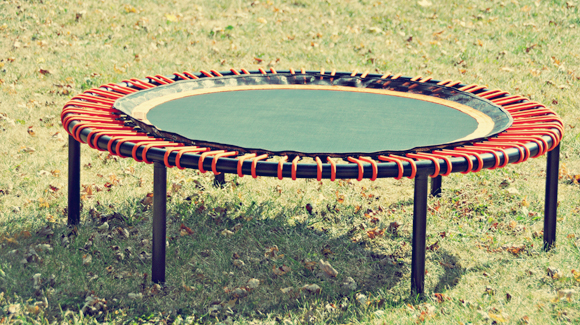 It's been two weeks since I've started rebounding. It's been great so far. This week was awesome, because the weather was fantastic and I was able to rebound outside, in the sun.
There were no distractions, which I thought would make it take longer, but it actually flew by. I can't imagine what my neighbors thought! Being outside, without any height restrictions, I got to bounce higher than normal. I felt my blood flowing like crazy! I put my arms up in the air, above my head, and my hands were pulsing quite strong. It felt great, and I felt so invigorated afterwards.
This week, I also started incorporating arm workouts. As I bounce downward, I raise my arms quickly, like a bird. If you've ever thought you couldn't get a good workout on a rebounder, you're wrong! My arms were sore the next day, but in a good way. My legs were also sore around my upper thighs, because I did fast "tire jumps", like football players do, for agility. I must say, this week, I was able to figure out an intense workout regimen.
I normally run for my workouts, but I took September off of running, since my joints were hurting a little bit. I lost a little bit of muscle, but in the two weeks of rebounding, I think I got my muscle back. It amazes me how efficient rebounding is. My back doesn't hurt, and it does not hurt my joints, at all. This is the only workout I've done, that I've been able to feel my hips being worked and toned, every time.
I truly believe the only way to tell if your actually losing inches and toning up, is fitting into clothes that are a little snug. I have a pair of jeans that I love, and yes, they are a little snug. They still fit, I would just like them to fit a little looser. Trying these jeans on weekly will be my guide on success! I'll keep you up to date!
I've truly never felt so good, so quick!