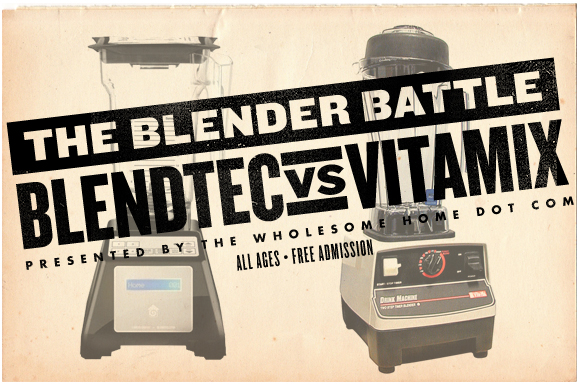 Like most couples, we registered for the best looking blender without spending hours researching the best. I never used our first blender. It failed miserably at anything involving ice. Isn't that why most people buy a blender?! Anyways, I sold that blender, so it wasn't a complete loss.
I went for 3 years just using an immersion blender that my mom had bought me before I got married. It was stashed away in my hope chest, just waiting for it's debut. I love it. I use it all the time. But it cannot make a smoothie, or nut butters or make instant ice cream. However it can make smoothing a hot pot of soup a chinch.
For about a year and a half now, I have searched the internet high and low trying to pin down my decision on which "real" blender to by. Since I wanted to make sure I would make the right choice, I pacified myself with a nice blender from Kitchenaid. It's the Architecht Series and it has, for the time being, filled the homemade frappe void. It's loud, which I'm guessing is something that I'm going to have to get used, and it sounds like it's going to take off to the moon if I don't hold the base while blending. It's doing a fine job, but I plan on selling it once September arrives. You see, I have a birthday in September. This means, someone has realized the desires of my heart for the past year and a half, and understands why a blender would cost more that $100!
I have to make my decision quick though. My birthday will be here before I know it. I have seen so many raw foodist with the Vitamix and a lot of restaurants do use them. You know you're a blender nerd when you go by a Starbucks or smoothie shop and ask what brand their blender is!
I thought I had made my mind up on which was best for me, and then when I was taking my friend E (who works at SB) to the airport, I told her I finally found out what brand Starbucks used, and I said Blendtec. Then she quickly, with a smile said, "Oh, we just got all new ones and they're Vitamixes, and their wonderful. They're so smooth and a lot quieter." Dang it! How can you not take someone's opinion into account when they have used both?!
So, spent a couple hours watching videos, reading blogs, and sifting through the blender loyalist opinions. I think I have made my decision (again!). Based on what works for me, I plan on getting the Blendtec. It will fit in a cabinet or under one without problem. The Vitamix is a lot taller. I've read that people wished it was easier to clean the Vitamix, and they loose food at the bottom, under the blades. The blendtec is much wider at the base and does not have this problem. Also ,the kicker, the blendtec is said to be easier to clean. There it is folks, the real reason I would go with this one! It's a square jar so there are no curves to get around, it doesn't narrow too much and the base and the blade and pitcher are fused together, which means, by law (sanitary reasons), you don't have to be able to remove the blade to clean it, since food bits won't slip through any gaskets and grow bacteria. I also don't mind the digital control panal, it seems easier to wipe clean.
I would be happy receiving either one of these great machines. I've looked at the Vitamix in person, and just can't imagine that big of a machine in my kitchen. And it's ugly. I don't want to have to look at it all the time because it's too big to put away. The Blendtec seems like a realistic choice. I can't wait to see what a difference a real blender makes and to not smell that burning rubber smell of a cheap blender!
I still have a little bit of time left to change my mind, so if any of you, out there in the abysse, have used these machines, please share your experience!