Black bean cakes topped with poached eggs with roasted jalapeno hollandaise sauce
I don't know how she did it with such grace. My mom never dashed around the kitchen, but floated with intention and calm, when we had guests over for brunch. It must come with years of practice.
I, on the other hand, am a dasher, dropper, sweater, occasional cusser, rushed, wanna-be-Martha-Stewart type. I try to invite my guest in, make them feel like they are part of the cooking experience and hopefully present the food, on time, perfectly cooked and hot. I think that's every hostess' desire, right? It's not unreasonable to think this can happen. Maybe I think that so I can strive for it.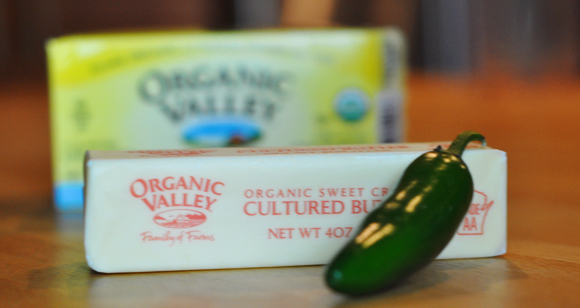 We had great friends, and their sweet baby girl, over for breakfast the other day. I had been talkin' a big game about my breakfasts, so this was where I had to put my money where my mouth was! I had prepared some things the night before, thinking this would give me a head start. In the morning, I juiced the oranges, warmed the maple and hickory syrups, sauteed the black bean cakes warmed the hollandaise sauce, and then it was all down to the eggs. I had watched Julia Child make poached eggs for her "English Muffins Brunch" show and I was confident in my skills.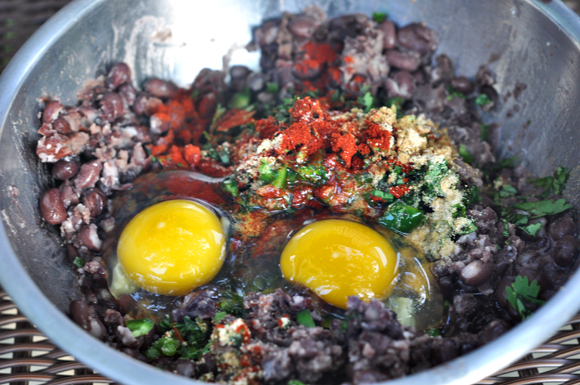 As I was chatting away and cutting some fresh peaches, brought by my friend E, my poached eggs, to my dismay, hard boiled. I tried again and finally got it as I burnt my fingers and dropped the hot pans, one after another. I had hungry guests, and I didn't want to disappoint.
I think everyone enjoyed the black bean cakes. We were all satisfied, with full bellies, and continued with conversation at the dining room table.
I love big breakfasts because it seems like if you could have one meal all day, it fills you up and you don't want to eat the rest of the day. People seem happier to see each other in the morning. There's something about being with other people, over food, and hot coffee in the morning that brings on a good day.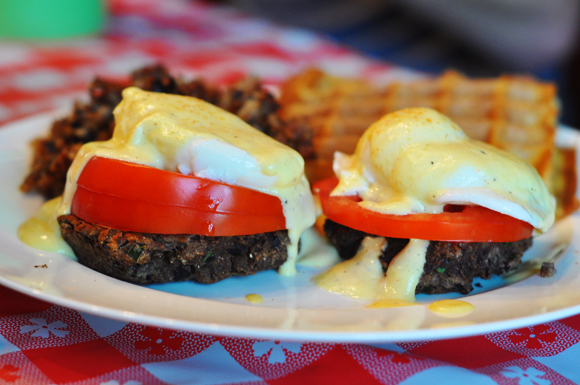 I love these black bean cakes because they are a nice alternative to an English Muffin , for Eggs Benedict and they are filling with very little grain. These are flavorful and hearty and perfect, topped with a slice of fresh tomato, topped with a fresh poached egg and slathered in buttery hollandaise sauce. Yum!
black bean cakes
1 can rinsed and drained organic black beans
1 jalapeno diced
1 egg
1/2 t smoked paprika
1/2 t cumin
1/2 t garlic granules
chopped red onion (to your taste)
2 T chopped fresh cilantro
2 T organic corn meal
1 t seasoning salt
With the back of a fork, mash the beans until some are paste-y but you can still tell they are black beans. Add all the other ingredients and combine well. On a hot griddle (I had mine on high), coat with butter or evoo, and drop a spoon full of the mix and form a patty. The thicker they are the more wet and moist they will be. If they are too thin, they dry out fast. Cook both sides until golden brown. Top with a sliced tomato and poached egg, with the Jalapeno hollandaise sauce and sprinkle with more seasoning salt or paprika. Makes 4 patties.
roasted jalapeno hollandaise sauce
1 jalapeno
2 egg yolks
1/2 stick butter melted
juice of half a lemon
1/4 t seasoning salt
4 T hot water
pepper to taste
Roast the jalapeno, dry, over a flame until the skin is black. De-seed the jalapeno and add to a small food processor along with the yolks, lemon juice and salt and pepper. Pulse until well combined. Melt the butter and add this to the food processor and combine all ingredients until creamy and thick.