Perfectly perfect.  This summer, I have admittedly become obsessed with ice cream.  Be it the heat or the nostalgic idea of having a drippy scoop of  cold ice cream to top off a summer dinner, I love it.  For some reason, ice cream doesn't have calories, or sugar in the summer.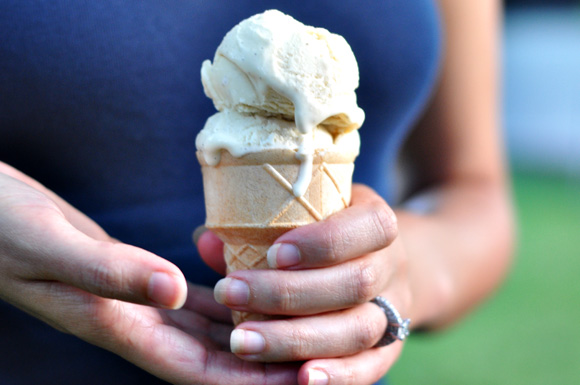 I have become quite the homemade ice cream master in the past couple of months.  I have made the most perfect vanilla ice cream I have ever had and a close to perfect, buttered scotch.  Some thing just clicked while making this chilly treat.  Before I was a self proclaimed master (of vanilla at least) I was using tons of egg yolks and having to find something to make with the left over whites.  I didn't like having to buy all those eggs just for one batch of ice cream.  So, I found a new method, tapioca starch, which I learned by reading the ingredients on my favorite bought ice cream/ pint label.
I'm lucky enough to live in the same state as the true ice cream master, Jeni Britton-Bauer, of Jeni's Splendid Ice Creams (named best ice cream in the US).  B and I have taken more trips than I'd like to mention to her shops to satisfy our little addiction.   I love the way that the base ingredients are glorified.  She uses Snowville Creamery cream, and it wouldn't be anything less than a sin if she used artificial flavors and heavy add in's to cover  up the precious taste.  Snowville is a small, mom and pop operation, located here in Ohio and they take a lot of pride in the lives their grass-grazing cow's live.  I have the pleasure of buying this milk on a regular basis.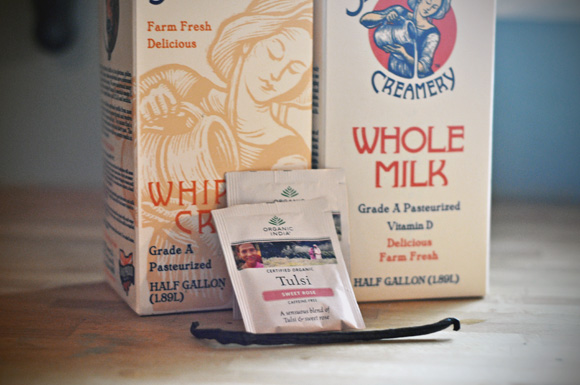 To stretch my, so called, ice cream skills I really wanted to make a rose flavored ice cream.  Not the kind that tastes like eating straight perfume, the kind that is ever so slightly blushed with that pink, floral taste.  I had the perfect solution.  I just bought a new Tulsi tea, sweet rose, which I love!  It's a wonderful swirl of fragrance and body with the health benefits of Tulsi (holy basil.)  Holy Basil is an herb  that is sacred in India.  It is said to promote calm, stamina, immunity, metabolism etc.  I drink this tea often and I can say I've never felt bad after drinking it.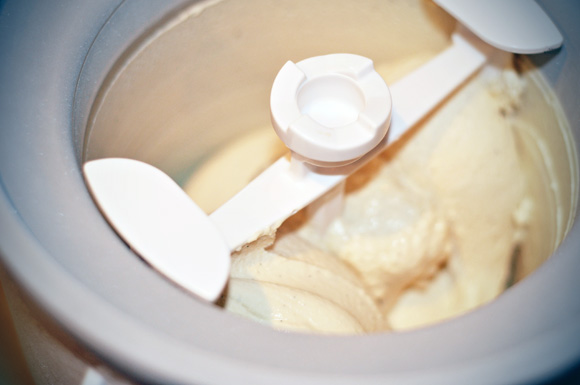 I'm not saying ice cream is a health food by any means, but I am saying, if your going to eat it, make it your self.  You control the ingredients and at Jeni's, a pint in $8!!  I'm also saving money.  A lot of people don't realize it, but sometimes after eating conventional ice cream, especially from chain shops, they experience a pseudo sinus infection/flu.  This is from the "natural & artificial" flavors.  Our bodies know what their doing, and when we consume something that is artificial, or bodies issue and auto immune response to protect itself.  This is why I only eat ice cream at one place  (Jeni's) and  I make the rest!
This is the most creamy, scoop-able-right out-of-the-freezer ice cream ever! Happy Churning!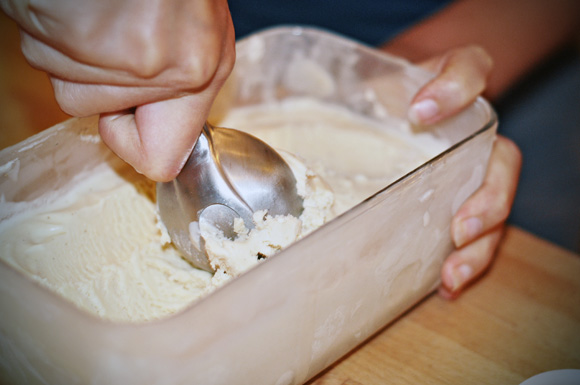 Sweet Rose, Vanilla Bean Ice Cream:
15 oz. organic whipping cream
2 1/2 C. organic whole milk
3/4 C. organic  sugar
1/4 t Fleur de Sal
1 T honey
1 T + 1 t tapioca starch
3 T organic whole milk
2 Tulsi sweet rose tea bags
add the milk and cream in a medium size sauce pan.
on medium/high heat gently boil them together.
add the sugar and stir until dissolved.
continue to gently boil to reduce the liquid mixture by at least a 1/4. *this will foam quite a bit so do yourself a favor and take a set at the stove, or else you will be cleaning a burnt on, milky mess.
add the honey and salt, stir and turn off the heat.
split a vanilla bean and scrape it with the back of a knife to get out all of the seeds and add pod and seeds to the hot cream mix.
cut open the tea bags and also add to the hot cream mix.
cover the cream and let all the ingredients steep for at least one hour.
strain the liquid through a fine mesh strainer and add back into the pot.
add the 3 T (cold) milk to the tapioca starch and mix with your clean fingers until it dissolves and add to the cream.
stir until it thickens, about 3 minutes.
store in a lidded container and refrigerate over night.  This is necessary so it is completely cool.
prepare your ice cream maker according to the manufactures directions, ie freeze the container.
add the cold custard to your ice cream maker and churn according to the manufacturers directions. It took me about 20 minutes.
When it's finished churning, store in a freezer safe container and freeze for at least 2 hours to set.
Enjoy!