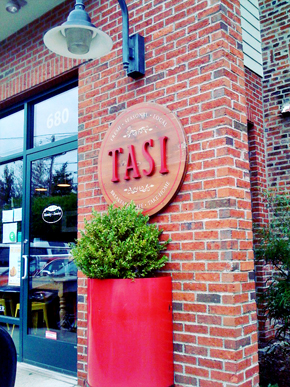 I am so lucky to now live in a progressive city.  However, my hometown seems like a dying city.  It's sort of depressing going back because there are so many big businesses closing, meaning many people have to leave town to find work, leaving the city left gasping for air.  Columbus, on the other hand,  is a thriving city in my eyes.  It makes me happy to know there are others around me care about good, whole, natural, organic food.  It's still hard to go out to eat, though.  Since I only eat organic, natural, fresh foods at home, sometimes eating out , at conventional restaurants, comes along with a stomach ache.
Columbus is catching on to the "good food" trend, and quicker than most cities.  There is an area of town called "The Short North."  There are local shops to tickle any one of your fancies.  I personally like the cooking shops.  B loves to boutique style stores for clothing and art shops.  There are lots of restaurants, and it's ALWAYS busy there.  It's a very progressive and hip strip of town.
B and I were trying to find a parking spot one night, and we drove past this little restaurant called Tasi.  I got excited because it said "local, seasonal cuisine."  It was tucked back, behind the main drag, this is why I had never seen it before.  Even though Columbus is progessive, there are still only a few restaurants that focus on healthier, natural foods.  I tried my hardest to remember the name so I could google it when I got home.
On a Saturday morning, I laid in bed trying my hardest to remember the name.  I knew it started with a T.  After sounding it out it finally came to me!  I googled it, printed out the menu and B and I decided we wanted to eat Saturday brunch there.
We walked in and it had a great vibe to it.  Cozy, with a little rustic and industrial vibe.  There were brightly colored stools, red and yellow, and it looked like the tables were made of reclaimed wood.  They had a lot to choose from on their menu, but I got the cinnamon challah french toast with maple syrup, which was like a cleaner version of those mall cinnamon rolls.  It was rich and drenched in warm, local maple syrup.  It was paired with freshly squeezed orange juice.  I definitely did not need to eat the rest of the day.  It was fantastic!  B got the smoked turkey bacon sandwich, with onion relish.  He said it was a simple sandwich, but every thing worked so well together.  The onion relish made it a whole different sandwich.  The sandwich came with homemade potato chip, which were slightly thick and still warm, dusted with sea salt and a little cracked pepper.
Everything seemed like a no-brainer.  The combinations were inspirational.  I can't wait to go back.  They have so much I want to try, like fresh almond croissants, fresh baked breads, pizzas, delicious sounding sandwiches….so much to look forward to.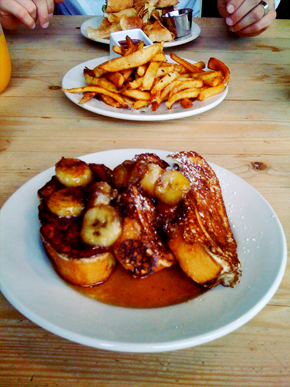 I like supporting places like this because they are spending their dollars on better ingredients, supporting local farmers, which in turn, are providing better quality of food for you to enjoy.  Food that is real, not loaded with preservitives and chemicals.  Food that is fresh and seasonal, containing more nutrients.
I feel hopeful that this is not just a trend, but the beginning of a new food movement.  So, support your local farmers, eat their food and if you're lucky enough to have these eateries in your neck of the woods, choose those over the big name chains.
Tip: When looking for a great breakfast spot, go to the places that only use real maple syrup.  A place that uses real maple syrup most likely care more about their food.  Places that use high-fructose corn syrup based "syrup" do not care about giving you high quality ingredients.