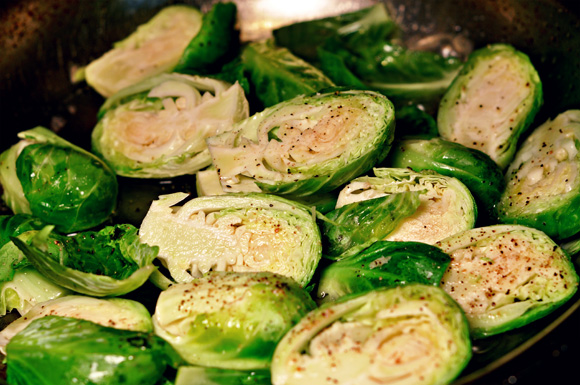 I never touch a brussel sprout until I was married. Our first year of marriage I watched a lot of Food Network. I saw a recipe for brussel spouts, and it didn't look like the same brussel sprouts that conjured up images of children stuffing their food into their napkins, or forking the sprout into their mouth, nose pinched. My Mom said she never liked them, so, we never ate them.
I tried the recipe out and I've been in love with brussel sprouts (this way) ever since.
The key to making these sprouts fantastic is really good balsamic vinegar. My parents brought me back a bottle of St. Helena Olive Oil Co. Traditional Balsamic, when they went to Napa Valley. The company says it's more like a dessert vinegar, thick and sweet. It's my favorite Balsamic, for sure.
These brussel sprouts, when done right, are full of flavor, have crisp edges, and are salty and sweet.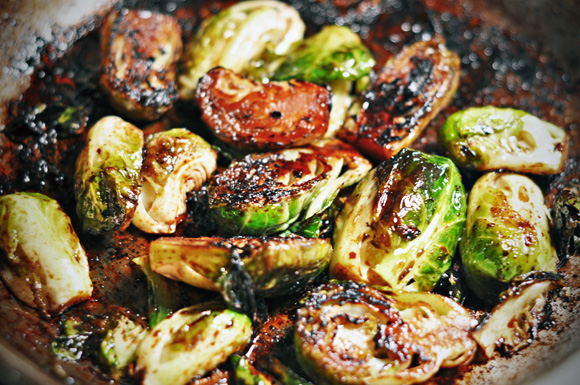 !0 large brussel sprouts, washed, halved and stem trimmed.
1/4 C veggie stock or water
1/4 C EVOO
1/4 C balsamic vinegar (you should do this by taste)
salt and pepper to season
In a large sauté pan over med/high heat, add the first 3 ingredients. With the pan uncovered, let the stock steam the sprouts until slightly tender until the oil is left. About 5 minutes
Sautee the sprouts until golden brown and the pan starts to brown. About 3 minutes.
Add the balsamic, and continue sautéing, making sure to let the sprouts come in contact with the pan long enough to brown and crisp the edges. This takes about 2 or 3 minutes.
Season with salt and pepper and enjoy!
* For an easier method, you can also toss all the ingredients together, place on a baking sheet, and into a 375 degree oven for about 15-20 minutes, turning occasionally. this method seems to make them more spicy, which is why I prefer te sauté method.