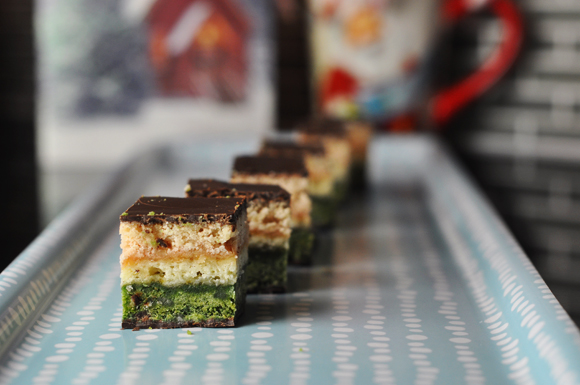 I don't know why I feel like I have the go-ahead to eat like Buddy The Elf during the holidays. The first thing that I eat in the morning is some form of chocolate, and then I eat a healthy breakfast and then I finish it with multiple forms of sugar, such as cookies, chocolate, or a sweet drink.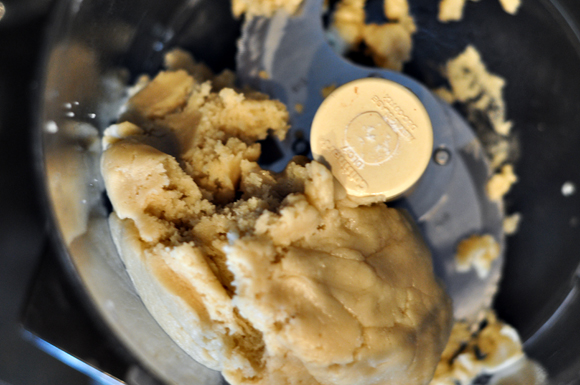 I'm not the normal Christmas cookie maker. I don't share! I make these cookies with myself in mind. Sure, I consider what would be good to other people, but only if I know I'll have lots of left overs. I make my goodies and hide them. This has definitely gotten a little out of hand, but I figured out how to combat my holiday sugar addiction.
Two years ago, I was introduced to seven layer cookies. It had marzipan in it, which I adore! It has chocolate, and layers of apricot jam, which is always the perfect compliment to intense flavors. This was my kind of cookie! I made them right before we left to head home for Christmas. I had the scraps in the fridge at home and displayed the rest at Christmas dinner. I was slightly shocked to see people eating one after the other. I got a little panicky because I didn't get to really enjoy them yet! Before I knew it, I had just one or two left, so I hi-jacked them, to eat myself. They were perfection in the form of sugar!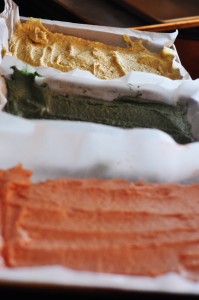 The next year, I made them a little earlier and I made quite a dent in the final count before I even packed them up. This year, I made them 1 day before we leave. Once I taste one, I can't stop, so it's best when I don't have multiple days to nosh on them.
This year, I changed the recipe a little bit, making it more wholesome and less damaging. It's still a lot of sugar, but I swapped out the butter for virgin coconut oil, and replaced the food colors with vegetable juices. The colors don't pop like the ones made with the artificial colors, but who cares! They're delicious.
Merry Christmas to all of you and your families!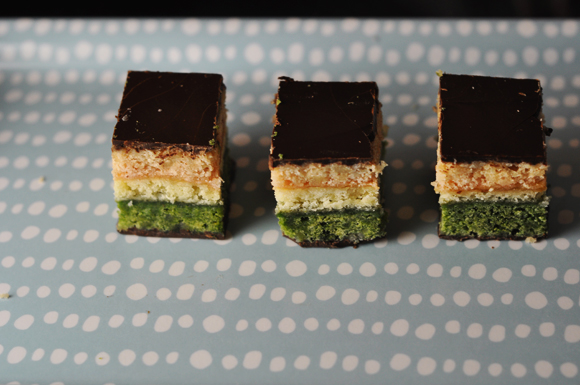 Seven Layer cookies
4 large eggs, separated
1 c sugar
8 Oz. homemade almond paste
1 1/4 C virgin coconut oil at room temp.
1 t almond extract
2 c King Arthur Gluten Free flour mix
A pinch of baking powder
1/2 t xanthan gum
1/2 t salt
red and green food coloring, I used beet juice for the red and spinach juice for green (pre packaged)
1 (12 oz) jar apricot preserves, heated and strained
1 c dark chocolate chunks
Almond Paste/ marzipan
1 egg white
8 oz. blanched almonds
8 oz. powdered sugar
In a Food processor, grind almonds until very very fine and a little warm. Pulse in the powdered sugar until well combined. With the machine running, add the egg white slowly. Process until it forms a dough, about 3 minutes.
Seven Layer cookies
Preheat oven to 350. Line a 13×9 pan with parchment paper.
Beat egg white with a whisk attachment of a stand (or hand) mixer until stiff peaks. Sprinkle 1/4 c sugar and continue beating until glossy and stiff. Transfer to another bowl, then switch to the paddle attachment. Beat almond paste and remaining 3/4 c of sugar until well combined. Beat in oil until light and fluffy. Add yolks and almond extract and beat until combined.
Turn mixer to low, and add flour mix, salt, and xanthan gum and baking powder. Mix until just combined. Fold in 1/4 of the egg whites to lighten (it won't do much lightening) and then fold in the rest. If dough feels too thick to spread, fold in a tablespoon or two of milk. Divide dough into three bowls. Add beet juice food coloring in one bowl, then green in another, just until you get the color you desire. Spread red dough into prepared pan (will be thin), and bake 10-12 minutes until slightly firm and a toothpick inserted in comes out clean. Remove red layer to a rack to cool, prepare another sheet of parchment paper (or another silicon liner) and spread white layer as before. Bake, then repeat with the green.
Once all layers are cooked and cooled, divide the preserves in half. Spread half of the preserves on the green layer, then lay the white layer on top. Spread that with the rest of the preserves, then carefully place the red layer on top. Cover with wax paper, then top with a heavy cutting board or cookie sheet, and refrigerate for 8 hours.
Bring to cake to room temp. and heat the chocolate over a double boiler until just melted. Spread a thin layer on one side and freeze until it sets. Once it sets, flip it over and do the same one the other side, and freeze. Cut in1x1 inch squares and keep cool!