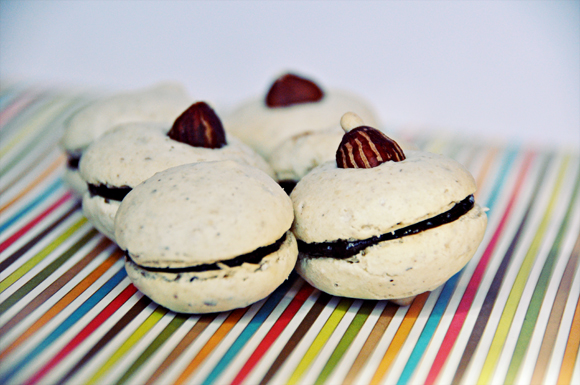 Hazelnuts trigger a very distinct feeling and memory for me. In my (German) family, hazelnuts scream Christmas. My favorite Christmas cookie that my family makes is the hazelnusse cookies. It's a hazelnut meringue atop a backoblaten, which is a baking wafer, used back when parchment and silicon mats were unavailable. They always reminded me of the communion wafers from church.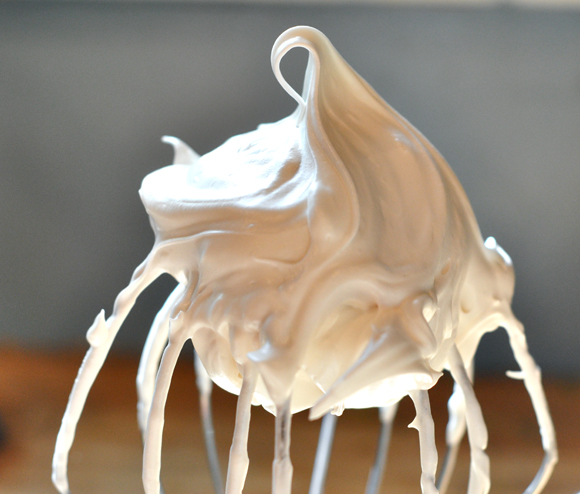 Everyone in my family makes them, and it took me forever to master this family cookie. I remember trying to make them when I was little, and I would always end up with flat, unfamiliar rounds of crunch. My mom would have to take over to fix my mistakes. It's funny how, as an adult, I look at the recipe and realize, with a little family guidance, the mistakes I made. I always over mix the batter and deflated it.
When I moved on, to French macaroons, I was well practiced. I was so intimidated by French macs at first, because of hearing how hard they are to make. When I made my first batch, I realized I had been making these for years, just with less flavor variety.
As I was planning my Dads surprise 70th Birthday Party, I knew I wanted to make Nutella filled hazelnut macaroons. Even though it wasn't Christmas, it was a celebration, that a lot of our German friends and family would be at. It would be something they would recognize, with a twist.
I was so happy at how they turned out, even B was hovering over them, begging to have more. At the party they seemed to go pretty quick. The more unattractive ones were left over, and as we were cleaning up, my Dad said to my Uncle, "hey, these are pretty good!" and finished them up. That's all I need to hear, to know if something is good. My Dad is a man of few words, and if he praises something, it must be really good!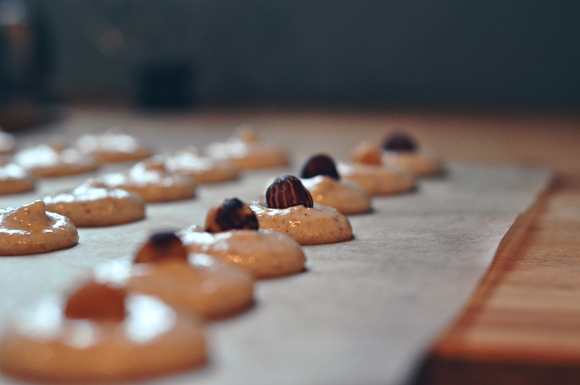 There weren't any left. Enough said
Hazelnut Nutella Macaroons
macaroons adapted from Cannelle et Vanilla
181 grams hazelnut flour
243 grams powdered sugar, sifted
138 grams organic egg whites
3 grams egg white powder
2 grams fine sea salt
2 grams of cinnamon
81 grams sugar
Sift the powdered sugar, sea salt, and cinnamon with a fine mesh strainer or sifter into a bowl. Add the Hazelnut flour, and stir with a whisk. Add eggs whites and egg white powder into the bowl of an electric mixer, and whip on medium until soft peaks form. Continue whipping, now on med. high speed and gradually add the sugar until you get stiff peaks.
Add the hazelnut flour/ powdered sugar mix to the meringue and fold gently, trying not to lose too much air. Make sure everything is uniformly mixed. The batter should have a little volume but should not be too runny.
Put the batter into a piping bag and pipe into uniform rounds on a parchment lined baking sheet. If there are any peaks, wet your finger and smooth it out.
Let the macaroons dry for at least 30 minutes or until they are dry to the touch. Bake at 325 degrees for 10 minutes, rotate the pan and bake 7 minutes longer.
Remove the sheet of parchment and let them cool on a cooling rack.
Homemade Nutella filling
adapted from bakingbites.com
1/3 C hazelnut flour
1/2 dry nonfat milk powder (organic)
1/3 C. sugar
1 T. honey
1/4 C. unsweetened cocoa powder
1 T. cornstarch or tapioca starch
3/4 C. milk
1 T. virgin coconut oil
In a small sauce pan add the first 6 ingredients and combine. Then add the Milk and oil and whisk over medium heat until it starts to bubble and thicken. Take off heat and add to a sealable glass container.
To assemble macaroons
Let the hazelnut spread cool completely and add to a piping bag. Pipe the spread in a concentric circle on the hazelnut macaroon, because it will not spread so, cover the shell completely. Do this before serving or they will go soft and a little soggy over a few days.