I'm still recovering from the party! I don't know why it's taking so long, maybe it's just mental. In the days following I just wanted healthy, nutritious food. It's probably because I was up to my elbows in sugar for 4 days straight. Whatever the reason, I needed healthy eats.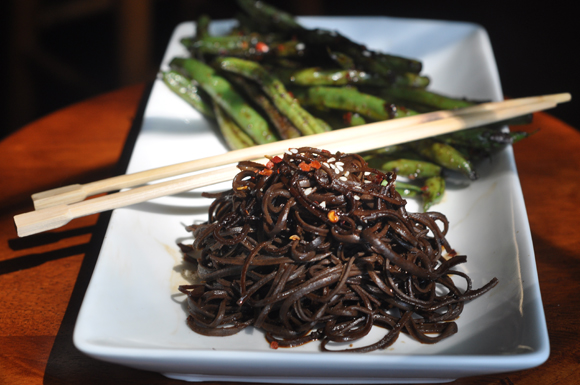 I had a bundle of fresh green beans in the fridge and a new bag of black bean noodles I was excited to try. I remember hearing, on some show, that black bean noodles existed. I thought that was too good to be true but it wasn't! I saw it in the gluten free section of my health food store and I grabbed the last bag for around $5!! Whatever, I was excited to try it.
What I liked about it was that it was way lower in carbs than other GF pastas, had more protein, a lot more. One of my favorite snacks has always been pasta with soy sauce and toasted sesame oil. I don't know why, but it just hits the spot.
The noodles are short, thin and dry feeling. Very delicate, unlike other GF noodles. When cooked, they are a bit rough on the tongue and dry tasting as well. They are best suited for an asian application. I really did like them, despite my negative toned description. They held onto my sauce well.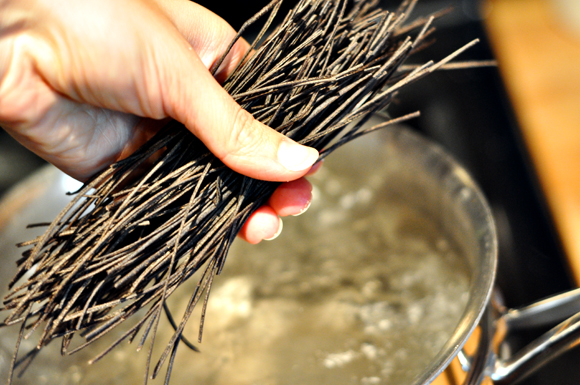 This did make me feel better. I think my body was satisfied with the unexpected protein punch.
The brand I got was Explore Asian Authentic Cuisine. It was called gluten free black bean spaghetti. I also liked that it was organic. All the ingredients are- black beans, water. An added bonus was also that it was locally made.
Black bean spaghetti- Asian style
2 oz. black bean spaghetti
Cook the noodles for about 6 minutes and drain in a fine sieve.
Add about 1 tablespoon of GF tamri, 1/4 t. toasted sesame oil and a little bit of red pepper flakes to taste to a warm pan and toss with the noodles. Finish with sesame seeds.
This is how I like it but you can adjust it to your taste.