I apologize for my absence. I'm currently sitting on the couch, nursing a sore back and tired body. I am exhausted.
Yesterday, B and I, and my family, threw my Dad and my Uncle, his twin brother, a surprise 70th birthday party! This is why I couldn't post anything last week, because incase my Dad would have seen it, it would have ruined the surprise.
I spent the past 4 days shopping, baking, cleaning, painting, cutting, decorating and scheming! B was in charge of the art, and my brother and sister-in-law came over to help paint a huge banner that would hang in the party hall. I spent most of my time baking.
I may have mentioned before that I was born on my Dad and Uncle's Birthday. I've always had a special bond with them because of that. When I was a kid, my mom would put together a huge get together for the birthdays. I remember our dining room table being covered in cakes and tarts and a few cookies. My mom did all of the baking and every one loved it and looked forward to it. I always thought everyone had that many cakes at their birthday parties! Come to find out, in later years, most people weren't born on their parents birthday, and most people didn't have 20 desserts to choose from.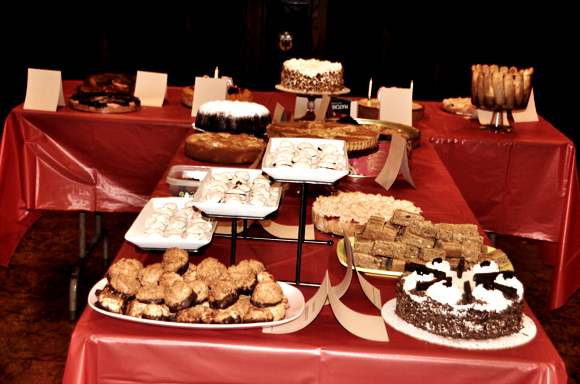 Whenever my Dad's side of the family got together for an occasion, there would always be tons of desserts. A lot of the photos from family events are of friends and family sitting around a table full of desserts, enjoying their coffee or tea and cake. I have sweet memories!
After 2.5 days straight of baking, and not sleeping much, it was party time!
My mom rented the party room of the German soccer club my Dad's been a part of since he came to the States, from Germany. I spent a lot of my weekends and holidays at the club, usually on the sidelines of the soccer field, watching my Dad play soccer with all of his buddies. The kids of the other players and I would conger up weird myths and stories about the club that still stick with me today! My Opa (Dad's father) actually help build the club and I have deep roots there. I have great memories of the club and I love going back.
My Dad and Uncle thought there was an "Old timers" game at the club. This was just the rouse of course, but my Dad was so excited, he was calling all his old players and cleaning up the field weeks before. We invited almost 200 people and I feel like all of them showed up!
My mom called me, telling me that she couldn't hold my Dad down and that he was going to show up early. This sent me into panic mode, but everyone said it will be what it'll be.
Guests started coming in and gave a satisfied look at the massive amounts of desserts. They loved the decor and were excited to be there. My Dad and Uncle arrived and were delighted with the surprise (even though my dad knew something was up). They went around the room greeting all who came, and I even saw a shiny tear speck of emotion on my dads cheek. I could just tell how loved they felt and how excited they were for each person who was there.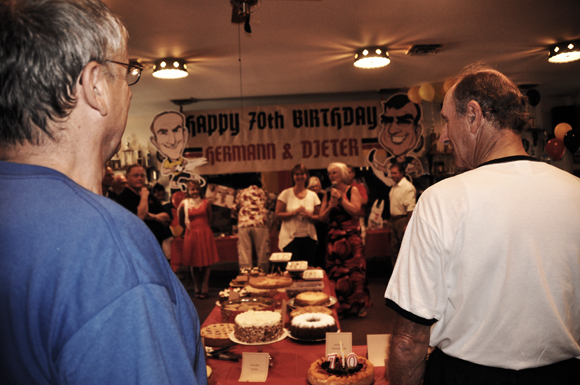 The party was awesome. People kept telling us how great it was. There was even an impromptu soccer game and yes, I was crazy enough to join in. The minute the cakes were cut, it looked like a tornado hit the table. People were skipping the food and going straight to dessert.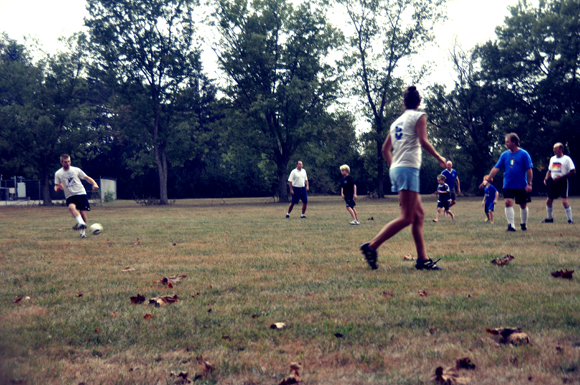 I loved seeing what went the fastest of what people went back for. My Mom's cakes like her marzipan torte, poppyseed kuchen, and cheesecake were gone in a flash, of course. Another winner was my coconut macaroons. I don't know why but I've had a thing for them lately. My Dad has always loved them, so I was sure include them on the list. I even had my picky cousin, yelling at me across the room, mouth stuffed saying, "I don't even like coconut but I love these!" They are really good! They are probably the best macaroon recipe I have ever tried.
There were some family friends there who I was wondering if they had gotten anything to eat, because I was pretty sure they were gluten-free eaters. I asked if they had gotten and thing to eat and they politely said yes, and that everything was great. Then, I let them know that most of the desserts I made were GF. When I said that, it was a different story! They went to the table and I pointed out the "safe" desserts. They were so happy to be included. It's the way I feel when I'm at a pizza place that has GF pizza!
The night was a success. My Dad couldn't have asked for a better day. He was surrounded with friends and family that truly love him, there was a table full of his favorite desserts, he got to play a soccer game with his old teammates and his son, daughter, and son-in-law, all at the same time. Perfect!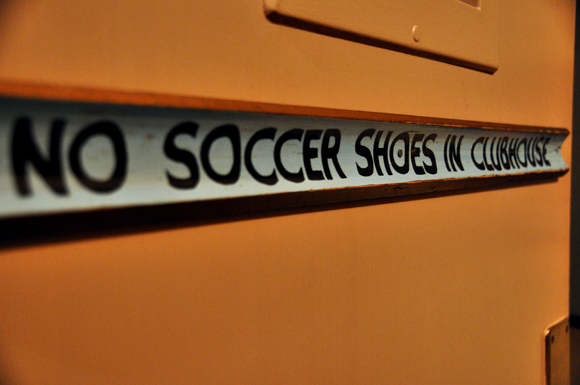 Now I'm just deflating, like the hundreds of balloons that we used to decorate. If I'm up to it, I'll post some more recipes that I used for this momentous occasion.
Coconut macaroons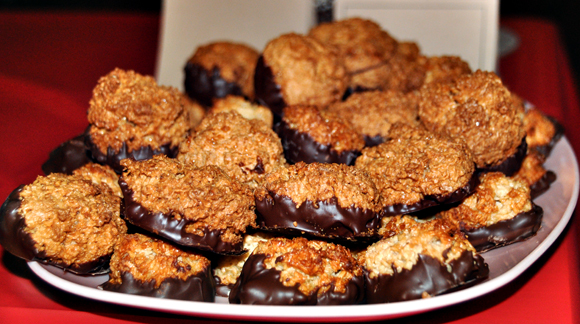 adapted from David Lebovitz recipe
4 large egg whites
1¼ cups organic sugar
¼ teaspoon salt
1 tablespoon honey
2½ cups organic unsweetened coconut
1 T organic coconut flour
½ teaspoon vanilla extract
Mix all the ingredients, except the vanilla, in a skillet over medium heat. Stir together constantly until there is a slight scorch on the bottom of the skillet. Take off the heat and stir in the vanilla. Use a small ice cream scoop and scoop out 1 inch mounds. I like to pack them down a little bit. Bake at 350 degrees for 18-20 minutes or until lightly golden brown. Cool completely
If you would like to dip them in chocolate…
tempered chocolate
1 1/2 C organic chocolate chips
in a double boiler melt 2/3 of the chocolate, until it reachers 110-115 degrees F. Take off the heat and add in (seed) the rest of the chocolate chips. Stir until it cools to 80 degrees F. After it gets down to temp. put it back on the double boiler till it reaches 90 degrees F. Dip the macaroons immediately and put on parchment or wax paper.
*In the picture, you can see some are darker than others. I actually forgot a batch in the oven. These are surprisingly forgiving so, bake them how you like them…shorter for really moist and "doughy", or longer for a toasted, crispy flavor.