Dreams do come true!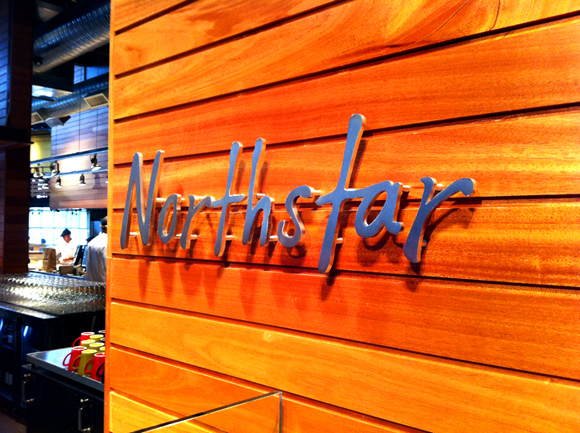 About 2 years ago B had a meeting with a client downtown, and they were meeting at a place I had never heard of. When he was done with his meeting, he called and asked if I wanted him to get me anything. It was lunch time and I was very hungry. I asked him what kind of place it was and he said it was kinda hippy and he told me they had a veggie burger. I asked him to see if it had soy in it and if it was organic. I was expecting him to tell me it was a defrosted Morningstar burger. He delightfully told me it was organic and made with black beans and brown rice. I almost dropped the phone just because he said it was organic. What were the chances. So, I ordered the veggie burger.
He came home and I opened the biodegradable take out box and looked at the beautiful burger. It reminded me of something. That great flamed grilled smell that comes wafting in your car after passing a burger joint. After one bite, I was in love. I felt like a 9 month pregnant women, demanding to go back because I NEEDED more of this! It was the best veggie burger I had ever had! It was smokey like a real burger, sweet and savory and perfectly accessorized with chopped onions, sour pickles and a real, juicy tomato and fresh lettuces. B saw my swooning over this burger and didn't understand because he was a little bummed with his meal choice, which was a flat bread, more of an appetizer. He asked for a bite and fell under the same spell as me!
We've been going to Northstar, in the Short North of Columbus, ever since. The Northstar burger (the veggie burger) is one of their most popular menu items. It's been so hard to try anything else, because it's so good! We don't go to many places to eat because I am not willing to eat food that is not cared for and less than quality ingredients are used. Northstar changed that for me. It's given us an nice place to go out and eat at when I don't feel like cooking. Northstar prides themselves on using natural and organic ingredients. They buy from many, real farmers who supply them with the freshest ingredients everyday, that don't have to come from 500+ miles away. This makes for fresher, healthier food. They don't believe in using something just because it's cheap. The best ingredients are used for the best tasting food. They even use organic ketchup and real sea salt! Their meats come from sustainable farmers that do not use added hormones, nitrates, or antibiotics. They make everything in house. This is good food.
The only bummer was that there were only 2 Northstar's. Both were at least a 20 minute drive down town. It wasn't like we could just run there for a quick meal. It was always a planned thing. I told a friend, who used to work there, that I wished they would come to our side of town. She told me that there was no way. That they were all about the downtown feel. I actually just read an interview by one of the owners that said they have an unspoken rule about only having restaurants where there can be a sidewalk connecting your front door to the door of Northstar. Which means, fat chance suburbs! This all changed last Tuesday!
This past New Years, be and I were at Easton Town Center, an outdoor mall. I was standing at J Crew waiting in the cold for B to lock the door of the car, in front of the old Smith & Hawkens. Smith & Hawken's had gone out of business and I noticed there was a sign on the vacant building. I walked closer and peered at the words on the glass. I felt like I was halucinating! Surely I didn't just read "Coming soon…Northstar Cafe!". That couldn't be right. But in the few short seconds it took me to justify this,(this was prime real estate, they would get tons of business from weary, high end shopper, tired from their day strolling the mall) I let out a shreek and started jumping up and down! B ran over to see what I was fussing about. I turned him to the sign and I said "read!!!". He smiled and said, "this changes a lot of things for us"!
As I said, that was back in January. It is now August and I was patiently awaiting the day of opening. I called the other restaurants all the time, and asked the wait staff if they knew but I never got a definitive answer. I spent time peaking in the windows, once the privacy paper was removed, and I knew it would be soon!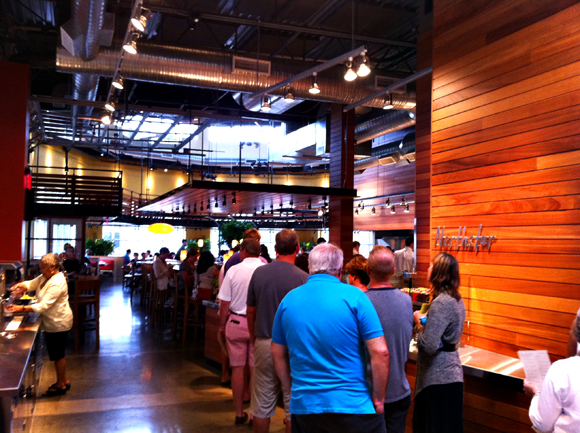 B and I made our first visit this past Saturday. I called the Short North location and asked if it was open yet and as soon as he said yes, we were out the door. It was raining and we already saw a line. We weren't the only excited ones. It was lunch time, on Saturday, at Easton. Were we crazy!? We entered the sparkly, new cafe. It was warm, with multi tonal woods on the wall, shiny concrete floors and fresh flowers to greet you. As we were waiting in line, we got to look into the pristinely clean, new kitchen, which was separated with a glass wall, and watched the bakers bake and the chefs prep, mix, blend etc. While we were waiting, we were given samples and asked if we wanted anything to drink while waiting.
One of the first things I noticed that was an upgrade from the other stores was the soda fountain. The other cafes featured sodas like RC cola, 7 up and other high fructose laddened drinks. This didn't make sense to me. Northstar wasn't about that so why would they have it? They made it right in the new cafe. The fountain featured Boylen's sodas, made with real cane sugar instead of the cheap stuff. This alone pumped me up.
We looked over the menu an noticed the added items. We soon realized this was the flagship store. How exciting! We are now the lucky ones with the biggest, best cafe! I felt smug to all the down town folk.
I caved on my gluten free streak and got the Cloud Nine pancakes and fresh squeezed OJ. I was willing to endure a gassy stomach. They were serving brunch still and I hadn't had breakfast yet. B and I felt relief that we could try different things now since they were so close and it wouldn't be a special occasion when we went. He got the breakfast burrito and a smoothie.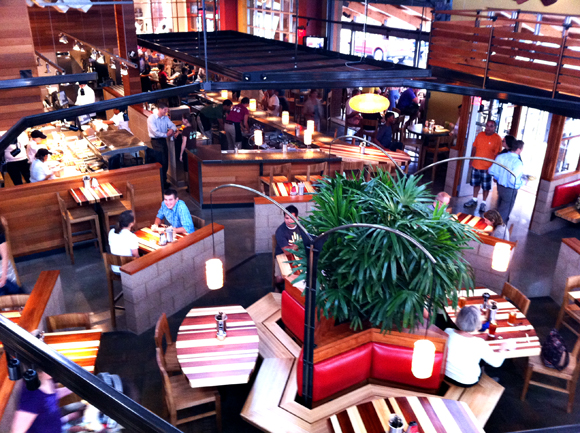 We sat in the new booth and took it all in. This was our Northstar. We could come when ever we wanted. We could even take our family to a great, wholesome place for breakfast, lunch or dinner when they're in town. B went up to the 2 level (there are 2 levels!!!) and snapped some photos and our food came. The pancakes were so fluffy (something only wheat could do!) and spotted with ricotta and cooked golden brown. The butter was soft, smooth and salty. Perfect, dipped in warm, real maple syrup, topped with fresh banana. B's burrito was layered with black beans, peppers (he omitted those), cheese, a hard cooked, steamed egg and sweet potato all with a side of fresh house made salsa. This thing is no joke. You're good for the rest of the day when you eat this.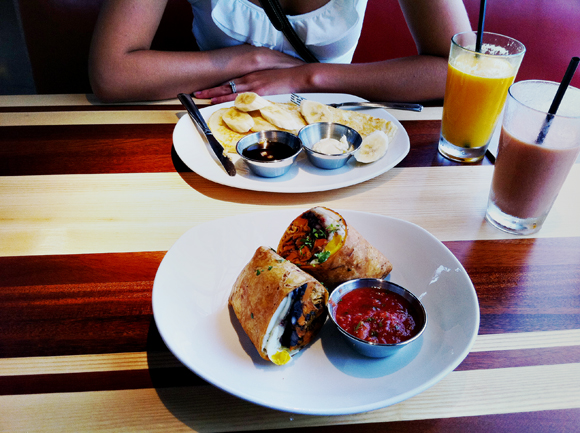 The food was so good, the atmosphere was great, everyone seemed excited to be there. All were satisfied! I literally thanked God for this restaurant opening and being so close. It makes me feel special to go there and I don't hate myself after I eat since I know they use good, real ingredients. I feel good because I know by eating there, I'm helping to support local farmers. I wish Northstar the best of success at their new location and they already have my support.