I did it, and no one knew the difference (I don't think).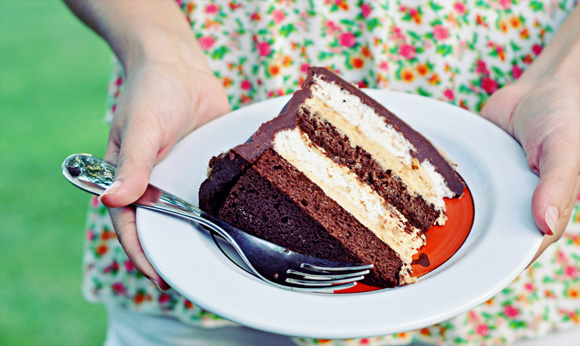 It's a sad, sad sight to see the ingredient list of conventional store bought cakes. Have you tried to read one? At a pool party we went to, someone brought a "death by chocolate" cake. It came in it's plastic dome, as if to say, "Don't eat me, I'm awaiting testing for the damage done to your body." It looked like Count Chocula's #3. I would have no part in it. It was frustrating to see the people eating it, so happy in the process, and then so guilt-stricken, with their hands holding their full, aching bellies after. It's just not worth it to me. I would rather make my own cake, skip all the chemical additives, preservatives, processed sugars and flours.
I first saw this recipe on whisk kid's blog. It seemed like a no brainer. Why hadn't I thought about layering angel food cake with salty layers of whipped peanut butter mousse and layered more with the rich, sinful devil's food cake, and top it all off the the thickest chocolate ganache ever? Who knows. But I've been doing really well with avoiding massive amounts of grains, and my body is thanking me for it. B and I had a get together last week, so I thought it was the perfect time to try this recipe out, sans gluten.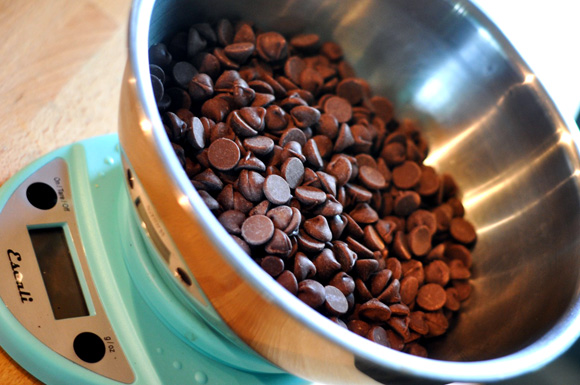 This cake is good; real good. Just a sliver will do you just fine, and it will feed a lot of people. It's so rich. This cake's best friend is definitely coffee. You'll need that bitter edge it provides to set your taste buds straight after each bite. If you love the mix of peanut butter and chocolate, you will love this cake. Even the last slice was good and relatively moist, considering it was five days old and all alone.
I made the devil's food cake with no grain flours at all. I used coconut flour. This is the best chocolate cake recipe I've made with the flour yet. For the angel food cake I used a combo of millet flour, sweet and white rice flour and tapioca flour/starch. It was good, and the texture was the same as a wheat based cake but there was a little earthy-ness I could detect, I'm guessing from the millet flour, that I wished wasn't there. However, I could not taste it when it was layered in the cake.
I felt better about eating a slice (or 3) of this cake since there was the presence of coconut flour, which is high in fiber and a good source of protein, boosts energy and thyroid function and no gluten. Again, this is no health food by any means but, you can take a rather ordinary, unhealthy dessert, and add some health benefiting ingredients back in.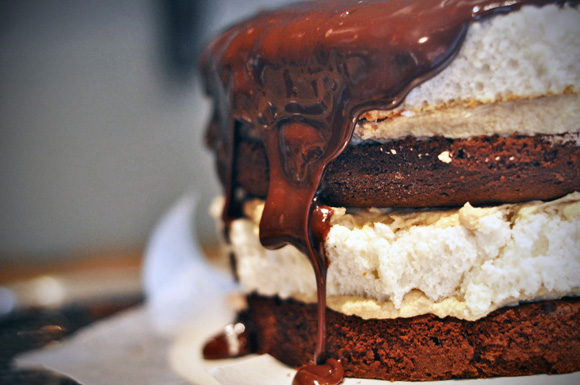 Order:
1.Make the angel food cake first since it takes longer than the Devil's food. 2.Then, make the chocolate ganache so it has a little time to cool off and set up a bit. 3. Next, make the devil's food cake. Once the cake is done and cooled, I froze the layers just to assure complete cool down so it doesn't melt the ganache and peanut butter mousse, and also so it was easier to work with. 4. Make the peanut butter mousse. 5. Assemble. Start with devil's food on the bottom, mousse, angel, mousse, devil's, mousses, angel on top, ganache. 6. Refrigerate for at least 2 hours.
Gluten Free Angel Food Cake
modified from glutenfreemommy.com
1/4 C millet flour
1/4 C sweet rice flour
1/4 C white rice flour
1/4 C tapioca starch/flour
1 t xanthan gum
12 egg whites (room temp)
1 1/2 t cream of tarter
1/4 t salt
1 T vanilla
1 1/2 C granulated organic sugar
Sift flours together along with xanthan gum and 1/2 of the sugar and set aside.
Whip egg whites until foamy and add cream of tarter. Continue to whip, on medium high speed until soft peaks form. Slowly incorporate the remaining 3/4 C. of the sugar and whip until stiff, but not dry peaks form. Fold the flour mixture into the egg whites a spoon-full at a time until fully incorporated. Add vanilla and pour into an angel food cake pan. Place into a preheated 325 degree oven for about 55 minutes or until golden brown. Cool up side down until ready to use. Run a knife along the edges until it releases.
Devil's food cake
1/2 cup butter – softened
1/2 + 1/3 cups sugar
5 eggs (at room temperature)
½ t vanilla extract
1 C coconut flour
1/2 C unsweetened cocoa powder
3/4 t baking soda
1/4 t baking powder
1/2 t salt
1/2 C milk
1/4 C strong brewed coffee room temp
Coconut oil
Pre-heat oven to 350 degrees. Grease 1 8 inch layer pan, line with parchment greased with coconut oil and dust with cocoa powder.
In an electric mixer fitted with the paddle attachment, combine butter and sugar, and beat together for about 2 minutes. Add eggs in one at a time and beat high speed for about 3 minutes. Add in the vanilla while beating the eggs and butter mixture. Combine the dry ingredients with a whisk and add into the butter egg mix alternately with the coffee/milk. Beat batter for about five minutes on high speed. Spoon batter into the prepared cake pan and smoothen out tops. Bake at 350 for 30-35 minutes, or until toothpick inserted into the center of cake comes out clean. Place pan on wire rack and cool for 10 minutes before removing from pan. Cool cake completely before frosting.
Peanut butter mousse
1 8 ox package cream cheese room temp.
1 1/2 C. creamy organic peanut butter (this has to be pre mixed)
1 C. powdered sugar
1/2 C. heavy cream
Beat together the creamy cheese and peanut butter until fluffy. Slowly add powdered sugar and continue to beat until combined. In a chilled metal bowl, whisk the heavy cream on high speed until whipped but not butter. Fold the whipped cream, a little at a time, into the peanut butter mix and combine.
Milk chocolate ganache
795 g milk chocolate chips organic or high quality
1 1/3 C heavy cream
heat the cream in a pot until it comes to a slow boil. Place the chocolate chips in a bowl and cover with the hot cream. Stir until completely combined and velvety. Set aside, covered to cool and set up a little bit. When your cake is assembled, pour the ganache over it all, getting the sides. Refrigerate and repeat until you achieve the desired coverage.